Real-Time Lubrication Intelligence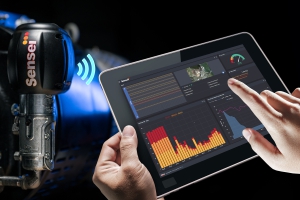 Trico Corporation's first release of the Sensei Platform of wireless, cloud based, analytic sensing equipment provides real-time monitoring of your constant level oiling devices and more. The OLEX product utilizes infrared technology to continuously monitor the oil level in your original Trico Opto-Matic Oiler or Closed System Opto-Matic Oiler. A two-piece clam shell assembly affixes directly to the world recognized Trico glass reservoir in any new applications and most existing installations. Simply replace the reservoir with this product. Welcome to the next level of practical monitoring. 
Who would want it?
Maintenance and Reliability Professionals looking for that proactive edge that puts them ahead of the reliability game.
Why would they want it?
The number one issue facing reliability and maintenance personnel is the lack of time and resources to complete everyday tasks. Our goal is to help our customers utilize their resources more efficiently by providing them the tools necessary to retrieve instant data related to the operation of their critical equipment without having to be there. 
Instead of wasting countless hours per week running lube routes topping off your oil applications, this product will communicate to you which machines need attention and when. 
Instead of finding out the pump you checked just yesterday failed because a leak developed and starved the bearing of lubrication, your team can be alerted immediately that there is an issue to attend to. 
Instead of checking a bad actor in some remote location every day, allow this product to monitor the asset lubrication requirements for you, allowing travel only when necessary. 
We hear it all too often, Maintenance and Operations are not always aware of what each other is doing when it comes to lubrication. If one does not know what the other is doing, that usually leads to improper lubrication levels. This usually leads to failures and finger pointing. The Sensei dashboard and OLEX allows all to view the same level data at the same time, eliminating confusion and reducing failures.
Want more?
Check out this short video about the New Sensei OLEX from Trico and what it can do for you.