Protecting your Centrifugal Pumps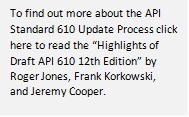 In January 2021, The American Petroleum Institute (API) released their 12th Edition of the API Standard 610: "Centrifugal Pumps for Petroleum, Petrochemical, and Natural Gas Industries". This is the foremost standards document for Centrifugal Pumps. Most of this well-known document is naturally based on the agreed upon standards of Mechanical Engineering, Design, and Performance of these essential pumps. The revision process for updating these standards is indeed in depth and each paragraph in the standard is scrutinized by some of the industry's top manufactures, contractors, and end users.
There are some detailed sections that deal with some of the supplementary components that accompany these pumps to better increase performance and overall health of these pumps. For the purposes of this article, we will focus our energies on the changes specific to the bearing housing and sections 6.10.2.3-6.10.2.5 as they apply to us.
Constant Level Oiler – 6.10.2.3 (f)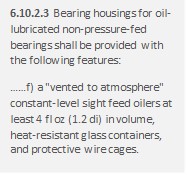 The 12th edition subcommittee decided to keep the inclusion of the constant level oiler. Item f) is what describes the Trico Opto-Matic Oiler. Although they removed the verbiage "with a positive level positioner (not an external screw)," that was still a part the 11th Edition, by- in- large the 4 oz, heat-resistant glass container, and protected with cages is an obvious description of Trico's Opto-Matic oiler, although knock offs and similar types of oilers exist.
There was some debate as to whether to keep the constant level oiler included in the standard. According to the "Highlights of Draft API 610 12th Edition" paper, the following conversation was had amongst the sub-committee members:

What they concluded is very true. These oilers allow a bit of comfort from a distance. If it is installed properly, and if there is oil in the glass bulb, your machines are being properly lubricated. It makes for an easy check. What the members did not mention, from this article anyway, is that machines and equipment consume oil, and that machine ports can slowly leak oil. All you need to do is look at the dipstick from your car at an oil change, you will know that machinery can use up oil. The most important feature of the constant level oiler is that it's designed to maintain a "constant level" within the bearing housing. It allows for a 4 oz reserve of oil when the oil for any reason is depleted. This keeps bearings lubricated and your equipment healthy. Removing it would certainly increase bearing failures. Kudos for the sub-committee for keeping these a requirement.
Closed System Oiler – 6.10.2.4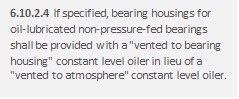 This is a new and welcome standard in the 12th Edition. The API Standard has finally acknowledged the existence of the closed system constant level oiler. This type of oiler uses a pressure balancing line from the oiler back to the bearing housing to close the oiler off from the surrounding environment. Trico designed the industry's first closed system back in November of 1995. Since then, Trico has been preaching the benefits of the closed system oiler, albeit many times on deaf ears. We all know that our industries are slow to change and trying to change pump OEM's offering is usually very difficult. This is a great attention getter for end users to start to demand better options from their suppliers. Again, kudos to the sub-committee for exploring better options available.
BS&W Bowl – 6.10.2.5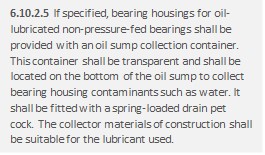 This standard also a new and welcome addition to the 12th Edition. An "if specified" type of requirement and should see a swell of requests from end-users to suppliers that they want to properly protect their equipment. This identifies a sump bottle or BS&W bowl used to collect water and particulate at the bottom of a piece of equipment. In addition, is the specification that the valve be a spring-loaded drain petcock. I have always been a proponent of the idea that if you have so much water in your sump that it is free, has dropped out of the oil, and has collected in the sump bottle:
you have a severe water issue.
your sump oil is probably also compromised with entrained and emulsified water in your system.
However, if the sump bottle identifies either of these two things to an end-user, then it has done its job as a visual alert. Another good call by the API sub-committee.
Maintaining Your Pumps
From the perspective of the specific standards outlined above, it's clear the API and its sub-committee has done their due diligence in their additions to the 12th Edition. Hopefully, the API continues to address and recommend advancements in the ancillary equipment that has been used for decades to maintain these critical pieces of equipment.
Give us a call at (262) 691-9336 for help with your specific application. We're here to help you manage your equipment more confidently.