Victoria Bunchek
10.27.2020
Power-Gen Facility realizes the full potential of an effective lubrication and reliability program through the Journey of the Lubricant®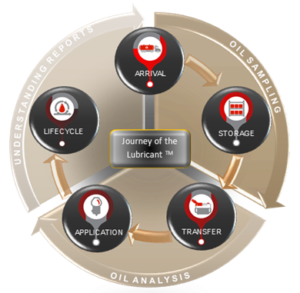 What is the Journey of the Lubricant?
The Journey of the Lubricant is a concept and philosophy developed by Trico Corporation several years ago – designed to assess every step of a facility's lubrication program. The philosophy covers the time the lubricant is delivered, to the end of its useful life and is broken down to 5 phases within a lubricant's lifecycle – with an emphasis on oil analysis throughout. Utilizing this approach, facilities can look at each phase individually and implement incremental changes that can make a significant impact.
Facility Assessment
An East Coast Combined-Cycle Power Generation Plant identified a need for increased preventative reliability, enlisting the onsite services of Trico Corporation. A full assessment of their facility led to the following stark conclusions:
Lubricant storage practices contributed to environmental contamination. Storage, transfer, and equipment applications contributed to longer wrench times, difficult/unreliable sampling methods, lubricant contamination from the environment, and cross-contamination of fluids.
Many critical assets were utilizing drain ports and sample valves to take lubricant samples. These methods sometimes required machines to be shut off, creating variable results, and increasing the cost & time of maintenance activities.
Oil analysis results were used reactively
Plan. Implementation. Results.
Following the onsite assessment, a co-created multiphase plan was put in place to address critical aspects of the Journey of the Lubricant.
Processes were put in place to test lubricants upon arrival to monitor incoming condition.
Drum/tote pump filtration was installed for lubricant storage, significantly reducing pre-equipment particulate contamination.
Turbine reservoirs, hydraulic skids, and gearbox applications were outfitted with pitot tubes and desiccant breathers to allow for efficient, representative sampling and environmental protection during lubricant transfer. (Pitot tubes allow for representative sampling of the turbulent zone, without having to shut off cooling tower gearboxes. Hydraulic skid units were also outfitted with a similar application, increasing result consistency, and identifying cross-contamination.)
Equipment and storage upgrades were paired with dedicated oil analysis procedures. A focus was placed on using the oil analysis results to trigger maintenance activities rather than time-based action. This method ensures "healthy" lubricant is not drained from machines, extending the lifecycle of the oil, and increasing change time intervals – saving on lubrication costs and labor time. (Oil analysis results were used reactively. Now, preventative mechanisms are in place to counteract issues before downtime occurs.)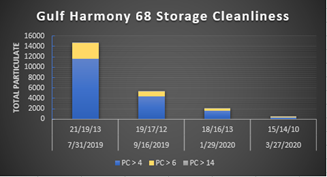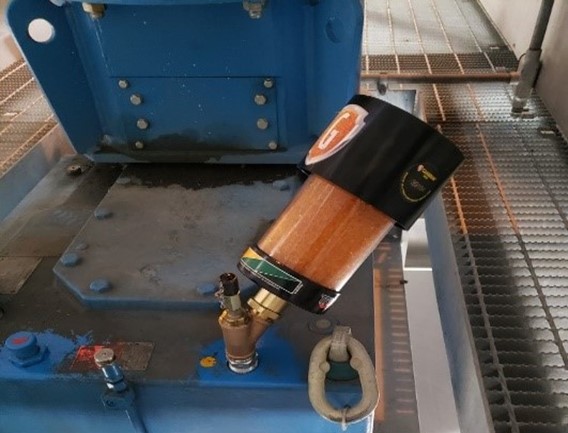 Benefit.
In less than a calendar year, this Power Gen company adapted their lubrication and reliability program to address the various stages of the Journey of the Lubricant and realized the full potential of a preventative lubrication program. They have transformed their lubrication and reliability program into a powerful diagnostic tool that allows for preventative action and will provide continual cost and time savings. How can utilizing the Journey of the Lubricant mindset help you?
Need an in-depth look at how the Journey of the Lubricant affects your facility?
If you are interested in improving your lubrication and reliability program, we can help you. We can quickly assess your current situation, provide recommendations, and help execute them.