Watchdog Extreme Humidity Desiccant Breathers
In environments with extreme humidity, the lubricants and other fluids stored in various equipment need desiccant breathers to remove water vapor and solid particles. However, small temperature variants can draw in humid air and unnecessarily reduce the life of the breather. The Watchdog® Extreme Humidity Breathers incorporate two check valves. One valve controls airflow into the protected equipment, and the other controls airflow out. Together, they allow air to flow through the breather only when necessary, prolonging the life of the desiccant.
Contact Us to Purchase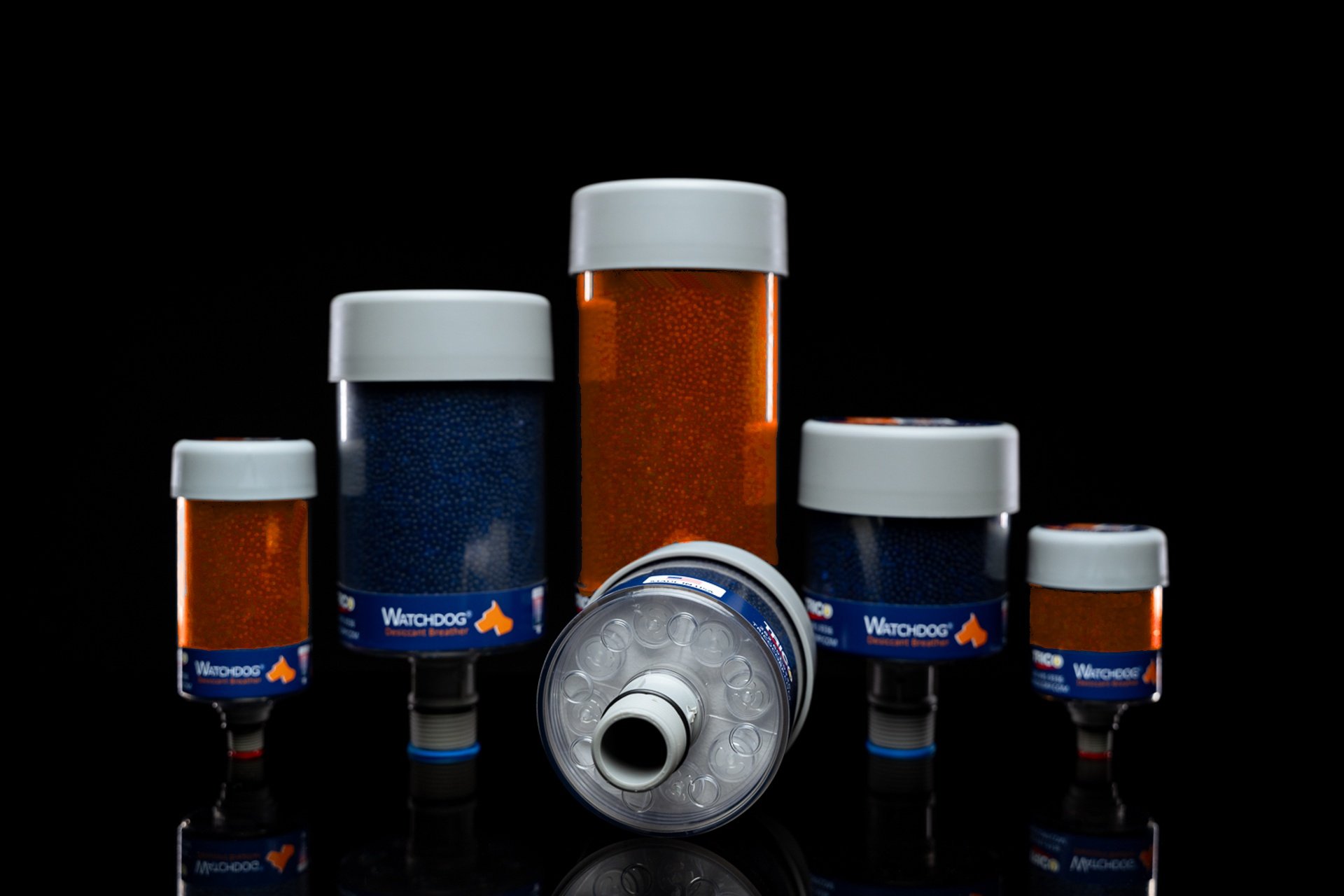 Feature
Reusable Top Cap
The top cap allows for the economic replacement of the desiccant cartridge. When maximum adsorption is reached, the silica gel turns from orange to dark green, indicating replacement is needed. The silica gel used is chemically inert, non-corrosive, and does not contain cobalt chloride, a heavy metal. The color-changing dye used is environmentally safe and meets all health and safety requirements.
Water Vapor Adsorbent

The silica gel used in the Watchdog Extreme Humidity Breathers adsorbs up to 40% of its own weight.

Durable Construction

Watchdog Extreme Humidity Breathers are manufactured from rugged ABS plastic and impact modified acrylic.

Easy Connection

Models are available with 1" slip fit connection which mates with the standard Watchdog Desiccant Breather Adapters or with a 2" NPT male connection.
Other Specs
| Model | Description | Connection | Diameter | Height | Air Flow | Water Capacity | Check Valve Capacity |
| --- | --- | --- | --- | --- | --- | --- | --- |
| 39110 | Extreme Humidity | 1/2" Female NPT | 3.25 in | 6.25 in | 10 CFM | .2 lb | .1 psi in / .1 psi out |
| 39111 | Extreme Humidity | 1" Male Friction Fit | 5 in | 5 in | 20 CFM | .6 lb | .1 psi in / 2.0 psi out |
| 39112 | Extreme Humidity | 1" Male Friction Fit | 5 in | 8 in | 20 CFM | 1.4 lb | .1 psi in / 2.0 psi out |
| 39113 | Extreme Humidity | 2" Male NPT | 5 in | 5 in | 20 CFM | .6 lb | .1 psi in / 2.0 psi out |
| 39114 | Extreme Humidity | 2" Male NPT | 5 in | 8 in | 20 CFM | 1.4 lb | .1 psi in / 2.0 psi out |
| 39135 | Extreme Humidity | 1" NPT Male | 5 in | 7 in | 20 CFM | .6 lb | .1 psi in / 2.0 psi out |
| 39136 | Extreme Humidity | 1" NPT Male | 5 in | 10 in | 20 CFM | 1.4 lb | .1 psi in / 2.0 psi out |
| 39141 | Extreme Humidity | 1/2" Female NPT | 3.25 in | 5.25 in | 20 CFM | .16 lb | .1 psi in / .1 psi out |
| 39144 | Extreme Humidity | 1" Male Friction Fit | 5 in | 7 in | 20 CFM | .6 lb | .1 psi in / .1 psi out |
| 39145 | Extreme Humidity | 1" Male Friction Fit | 5 in | 7 in | 20 CFM | 1.4 lb | .1 psi in / .1 psi out |
| 39146 | Extreme Humidity | 1" NPT Male | 5 in | 7 in | 20 CFM | .6 lb | .1 psi in / .1 psi out |
| 39147 | Extreme Humidity | 1" NPT Male | 5 in | 10 in | 20 CFM | 1.4 lb | .1 psi in / .1 psi out |
| 39148 | Extreme Humidity | 2" Male NPT | 5 in | 7 in | 20 CFM | .6 lb | .1 psi in / .1 psi out |
| 39149 | Extreme Humidity | 2" Male NPT | 5 in | 10 in | 20 CFM | 1.4 lb | .1 psi in / .1 psi out |
Description
Extreme Humidity
Connection
1/2" Female NPT
Check Valve Capacity
.1 psi in / .1 psi out
Description
Extreme Humidity
Connection
1" Male Friction Fit
Check Valve Capacity
.1 psi in / 2.0 psi out
Description
Extreme Humidity
Connection
1" Male Friction Fit
Check Valve Capacity
.1 psi in / 2.0 psi out
Description
Extreme Humidity
Check Valve Capacity
.1 psi in / 2.0 psi out
Description
Extreme Humidity
Check Valve Capacity
.1 psi in / 2.0 psi out
Description
Extreme Humidity
Check Valve Capacity
.1 psi in / 2.0 psi out
Description
Extreme Humidity
Check Valve Capacity
.1 psi in / 2.0 psi out
Description
Extreme Humidity
Connection
1/2" Female NPT
Check Valve Capacity
.1 psi in / .1 psi out
Description
Extreme Humidity
Connection
1" Male Friction Fit
Check Valve Capacity
.1 psi in / .1 psi out
Description
Extreme Humidity
Connection
1" Male Friction Fit
Check Valve Capacity
.1 psi in / .1 psi out
Description
Extreme Humidity
Check Valve Capacity
.1 psi in / .1 psi out
Description
Extreme Humidity
Check Valve Capacity
.1 psi in / .1 psi out
Description
Extreme Humidity
Check Valve Capacity
.1 psi in / .1 psi out
Description
Extreme Humidity
Check Valve Capacity
.1 psi in / .1 psi out
Nominal Air Flow Rate

10 CFM (75 gpm of fluid volume change)
20 CFM (150 gpm of fluid volume change)

Operating Temperature Range

-20ºF to 200ºF (-28ºC to 93ºC)

Material

ABS plastic and impact-modified acrylic

Particulate Filtration Level

2 Micron Filter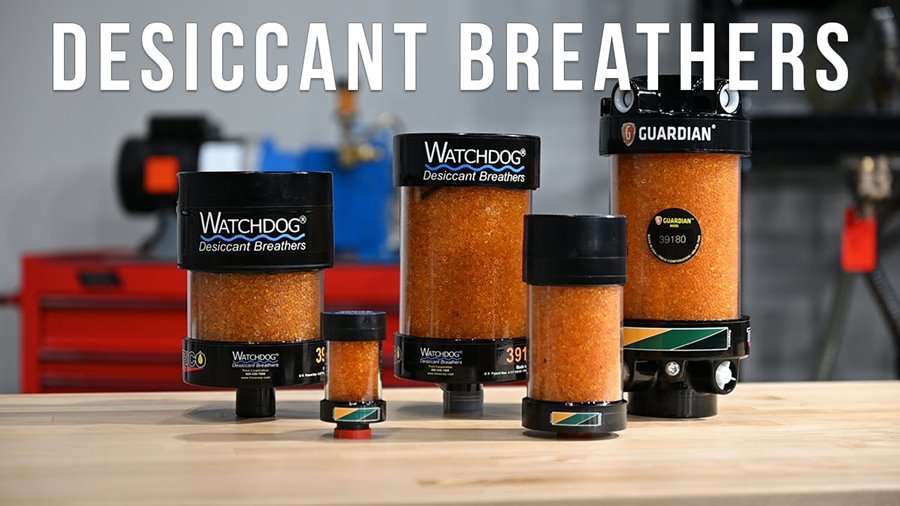 Learn More From Lubricology