Make the effort to organize and clean your lube room.
Ringing in the new year is often a time for reflection and resolution. This can take place in many facets of your personal and professional life. Often resolutions in our personal lives revolve around health. Whether it's to get in shape, drop a few pounds, or somehow changing our lifestyle for the better. It's the time to make a concerted effort to change the things we've always done. The same can be done in our professional life. It's a time to take a minute to look at the way things are done, or the process in which things have ended up the way they are. Maintenance and reliability professionals could probably choose many things that fit into those categories. One of which could be the current state of their lubricant storage areas. How did it get like this? I wish it was better. If there was one thing I would do to change it…2023 is the time to resolve to make it better – for you, your lubricant, and your equipment.
Most lube areas are in a state of disarray. Open drums, inconsistent storage, substandard secondary containers, and a cluttered arrangement of miscellaneous tools that have made this area a disaster to work in – not to mention an unhealthy place for your lubricants. Making a few decisions about storage and a bit of dedication can make your lube area a clean, organized, and heathy place to store your valuable lubricants.
If you decide your lube room is dedicated to storing 55-gallon drums, resolve to provide the following:
Each oil type has a dedicated, color-coded location with enough area to house the required inventory.
The Drums are color-coded with color-coded secondary containers.
They are equipped with desiccant breathers.
They have adequate spill containment.
The pump dispensers are equipped with filtration

f you decide you need an advancement from the traditional "drum field" to a cleaner, more flexible solution consider the Spectrum Bulk Storage System. These systems provide an easy and effective way to identify, store, organize, handle, and dispense lubricants. The Spectrum Storage Systems also:
Provide best practices in storing lubricants.
Provide clean, filtered, efficient dispensing of lubricants.
Eliminate the potential of cross-contaminating lubricants.
Improve lube route efficiency and equipment reliability when satellite locations are deployed.
Provide cleaner workspace and environment
Allow for flexible configuration to adapt to small and large spaces with a compact footprint.
Identify lubricants clearly with Spectrum color-coded tags and labels.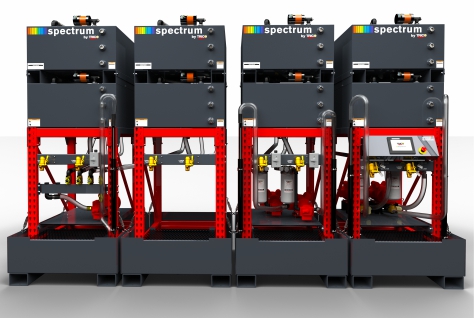 Make the Effort
Whichever decision you make, making the resolution, making the effort, to implement these systems in 2023 will provide an impressive upgrade to the look and feel of your lube area. It will also pay dividends in the health of your lubricants and ultimately the health of your equipment. Much like most personal resolutions, if you are dedicated to it and make it happen, you will be undeniably pleased with your results.
Happy Holidays from Trico Corporation.