Following the guidelines set forth by ASTM D4378 standard for turbine oils
The turbine is considered the hub of any power generation plant. If one goes down it results in unplanned outages and millions of dollars in downtime costs.
Turbine oils are expected to last 10 to 20 years. For this reason, monitoring the turbine oil's physical and chemical properties is necessary, as well as moisture and particulate contamination to prevent unplanned outages and downtime from occurring.
Power generation plants have been using oil analysis to determine the health of turbine oils for many years. The testing is so important that ASTM has developed a standard specifically to turbine oils, ASTM D4378-97 "Standard Practice for In-Service Monitoring of Mineral Oils for Steam and Gas Turbines." These testing requirements are aligned with common issues turbine oils encounter and are designed to provide remaining useful life timeframes to allow for plan maintenance, instead of reactive downtime. In addition, oil analysis testing of turbine oils has become a requirement by insurance companies to protect these expensive assets in power generation plants.

Comprehensive Test Package
Trico has a comprehensive test package (TU001A) that provides information about the health of the turbine oil and equipment. These tests help our Lubrication Program Managers to properly guide you with any necessary actions regarding the turbine oil's remaining useful life, the presence of varnish, and overall equipment health.
See graphic below on how Trico's test packages compare to the ASTM standard.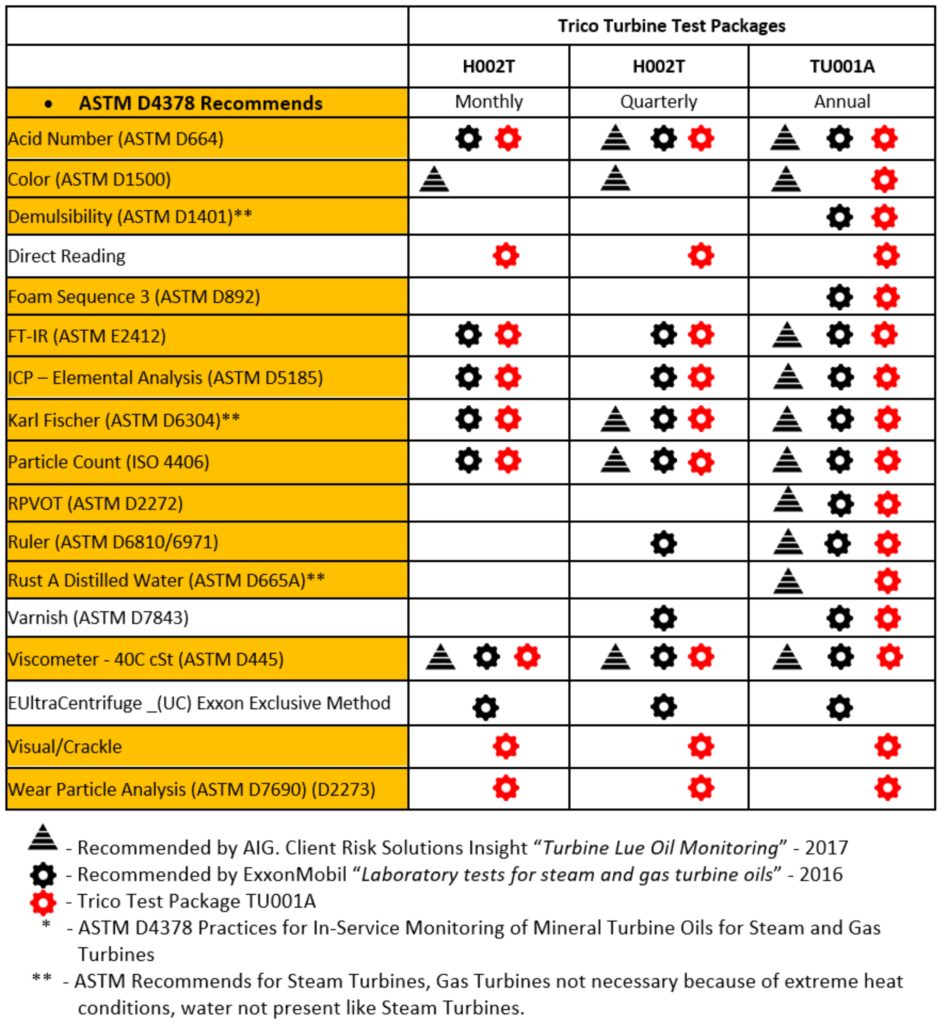 Get Your Turbine Oil Tested
Your turbine is your most valuable asset. Call us at 262.691.9336 to upgrade or get started with a turbine oil test package.