Too many choices…which system.
Imagine tripling parts production while extending tool life and significantly reducing the amount of cutting fluids, coolants, or lubricants used during the cutting operation. It's possible with fluid dispensing systems.
With these systems, which have been around for many years, use an air-fluid mixture to lubricate and/or cool the cutting tool and work piece. There are several different types of systems available and each has its own unique qualities.
Siphon Type Spray Systems
Siphon type systems use the venturi principal of air flow across an orifice to draw a vacuum. This vacuum pulls liquid up through an independent fluid line, dispersing it into a fine spray as the fluid meets the air flow. Siphon systems are designed for use with water soluble coolants, and they all incorporate a fluid check valve in the pick-up tube to keep the lines primed.
Let's take a closer look at Trico's siphon type mist systems.
DL and DL Magnum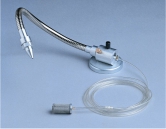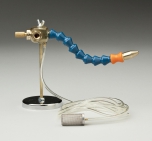 The DL and the DL Magnum Spray Systems provide cooling solutions for light-duty machining and tool room applications. These dispensers are easy to install requiring only shop air and dropping the siphon line into a coolant tank.
The DL has one knob that controls the air and the liquid combined and a 7-inch Loc-Line® nozzle.
The DL Magnum has independent air and liquid controls and a 15-inch metal conduit nozzle.
Li'l Mister Systems

The Li'l Mister Systems offer spray cooling with features normally available with higher cost units. The compact size with a 1-quart reservoir makes the Li'l Mister ideal for tool room and other light duty machining applications. Typical applications include drilling, milling, turning, grinding, and tapping.
This 1-line unit comes with independent air and liquid controls and a 6" brass nozzle.
The Li'l Mister includes a liquid level gauge, a 5-foot brass armored line, and a mounting bracket.
Spraymaster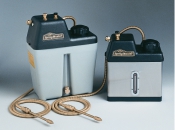 The SprayMaster upgrades to a 1-gallon tank, allows for 2-lines, and a stainless-steel tank option.
1- or 2-line with independent air and liquid controls, 5-foot brass armored lines, liquid level gauge, and mounting bracket.
Spraymaster II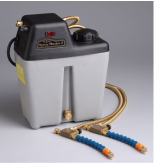 The SprayMaster II is an electronically controlled syphon system. It is designed for applications where the ability to cycle the coolant delivery is necessary. The solenoid control of spray coolant allows instant on-off operation for use in secondary machining. Solenoid control also conserves on coolant use during load and unload portion of cycle. 
Independent air liquid control at the 7-inch Loc-Line® nozzle.
On/Off rocker switch or solenoid controlled
Pump Type System
The MistMatic is powered by an air operated diaphragm pump allowing it to be used with water-soluble coolants or oil-based lubricants up to 1000 SUS (ISO 220). Variable adjustability allows deliveries such as lean, rich, high velocity, or low velocity. Unit can fill "mini-flood" applications with the dual control valving. Multiple metal removal processes ranging from broaching to grinding can be covered with the MistMatic. Auto electric models can be interfaced with machine controls for cyclic capabilities.
Independent air liquid control at the 7-inch Loc-Line® nozzle.
On/Off toggle switch or solenoid controlled operation
Minimum Quantity Lubrication or Micro-Dispensing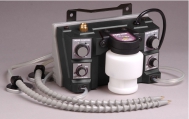 The basic principle of minimum quantity lubrication is the utilization of precision dispensers to apply the smallest amount of lubricant (typical applications use 1 oz. of lubricant in an 8-hour shift) needed to effectively perform the metal cutting operation. These dispensers help eliminate friction at the tool chip interface by minimizing the heat that can be generated. Special oil-based lubricants, such as Tri-Cool MD-1 and MD-7, are used with these dispensers which are virtually consumed during the machining operation, resulting in residue-free machine surfaces and work pieces, and the elimination of airborne mist.
Solenoid versions allow these units to be interfaced with CNC controls or other signaling devices. The pressurized delivery system of the MD-1200, provides instant on/off performance when used with the solenoid control.
1- or 2-line independent air and liquid controls
Typical applications use 1ounce of lubricant in an 8-hour shift
Positive pressure design gives instant fluid delivery for faster cycle times
High energy nozzle design eliminates fogging for cleaner environment and greater chip clearing power, allowing faster speed and feeds
Transparent reservoir for easy viewing of level
The Best Choice
While no single lubricating or cooling method works for every metal cutting operation, by understanding the benefits and limitations of these systems, appropriate choices can be made for your operations.