Watchdog Oilers
The Watchdog Oiler maintains a constant level of oil in lubricating sumps. They do not require any level setting as they are mounted on the centerline of the desired oil level.
Contact Us to Purchase
Feature
Visual Indication
An integral viewport eliminates need for additional component.
Prevents Contamination

Closed system design prevents contamination and spillage

Easy to Install

Mounts on centerline of desired oil level, does not require adjustment or level setting, and no vent line required, simplifying installation.
Other Specs
| Model | Description | Material | Connection | Wire Guard | Capacity | A Dim (in) | B Dim (in) | C Dim (in) |
| --- | --- | --- | --- | --- | --- | --- | --- | --- |
| 31804 | Watchdog Oiler | Polysulfone Body and Reservoir | 1 NPT | No | 4 oz | 5-3/4 | 3-9/32 | 1 |
| 31818 | Watchdog Oiler | Aluminum Body, Glass Reservoir | 1/2 NPT | No | 4 oz | 6-1/4 | 4-1/8 | 1/2 |
| 31820 | Watchdog Oiler | Aluminum Body, Glass Reservoir | 3/4 NPT | No | 4 oz | 6-1/4 | 3-1/4 | 3/4 |
| 31821 | Watchdog Oiler | Aluminum Body, Glass Reservoir | 1 NPT | No | 4 oz | 6-1/4 | 3-1/4 | 1 |
| 31822 | Watchdog Oiler | Aluminum Body, Glass Reservoir | 3/4 BSPT | No | 4 oz | 6-1/4 | 4-1/8 | 3/4 |
| 31823 | Watchdog Oiler | Aluminum Body, Glass Reservoir | 1 BSPT | No | 4 oz | 6-1/4 | 3-1/4 | 1 |
| 31824 | Watchdog Oiler | Aluminum Body, Glass Reservoir | 3/4 NPT | Yes | 4 oz | 6-1/2 | 3-3/8 | 3/4 |
| 31825 | Watchdog Oiler | Aluminum Body, Glass Reservoir | 1 NPT | Yes | 4 oz | 6-1/2 | 3-3/8 | 1 |
| 31826 | Watchdog Oiler | Aluminum Body, Glass Reservoir | 3/4 BSPT | Yes | 4 oz | 6-1/2 | 4-1/8 | 3/4 |
| 31827 | Watchdog Oiler | Aluminum Body, Glass Reservoir | 1 BSPT | Yes | 4 oz | 6-1/2 | 3-3/8 | 1 |
| 31828 | Watchdog Oiler | Aluminum Body, Glass Reservoir | 1/2 NPT | Yes | 4 oz | 6-1/2 | 4-1/8 | 1/2 |
| 31831 | Watchdog Oiler | 316 Stainless Steel Body, Glass Reservoir | 1 NPT | No | 4 oz | 6-1/4 | 3-1/4 | 1 |
| 31833 | Watchdog Oiler | 316 Stainless Steel Body, Glass Reservoir | 1 NPT | Yes | 4 oz | 6-1/2 | 3-3/8 | 1 |
Description
Watchdog Oiler
Material
Polysulfone Body and Reservoir
Description
Watchdog Oiler
Material
Aluminum Body, Glass Reservoir
Description
Watchdog Oiler
Material
Aluminum Body, Glass Reservoir
Description
Watchdog Oiler
Material
Aluminum Body, Glass Reservoir
Description
Watchdog Oiler
Material
Aluminum Body, Glass Reservoir
Description
Watchdog Oiler
Material
Aluminum Body, Glass Reservoir
Description
Watchdog Oiler
Material
Aluminum Body, Glass Reservoir
Description
Watchdog Oiler
Material
Aluminum Body, Glass Reservoir
Description
Watchdog Oiler
Material
Aluminum Body, Glass Reservoir
Description
Watchdog Oiler
Material
Aluminum Body, Glass Reservoir
Description
Watchdog Oiler
Material
Aluminum Body, Glass Reservoir
Description
Watchdog Oiler
Material
316 Stainless Steel Body, Glass Reservoir
Description
Watchdog Oiler
Material
316 Stainless Steel Body, Glass Reservoir
Body

Aluminum Body: Cast Aluminum
Thermoplastic Body: Polysulfone
Stainless Steel Body: Stainless Steel

Reservoir

Aluminum Body: Glass
Thermoplastic Body: Polysulfone
Stainless Steel Body: Glass

Viewport

Aluminum Body: Glass
Thermoplastic Body: Polysulfone
Stainless Steel Body: Glass

Max. Operating Temp

325°F/160°C

O-Ring

Viton®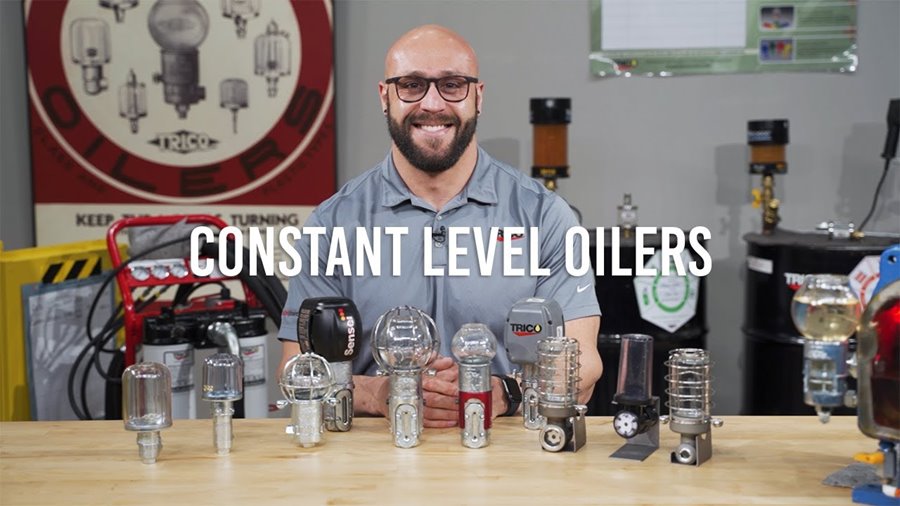 Learn More From Lubricology