Watchdog Guardian Desiccant Breather
The Watchdog Guardian Desiccant Breather has a modular platform that allows for configuration of the breather for nearly any application and life expectancy. This makes better use of inventory dollars and ensures every maintenance dollar is used wisely. Incoming air is directed through the filters and desiccant, but all exhaust air is expelled directly out to atmosphere, which elongates the life of the desiccant and breather.
Contact Us to Purchase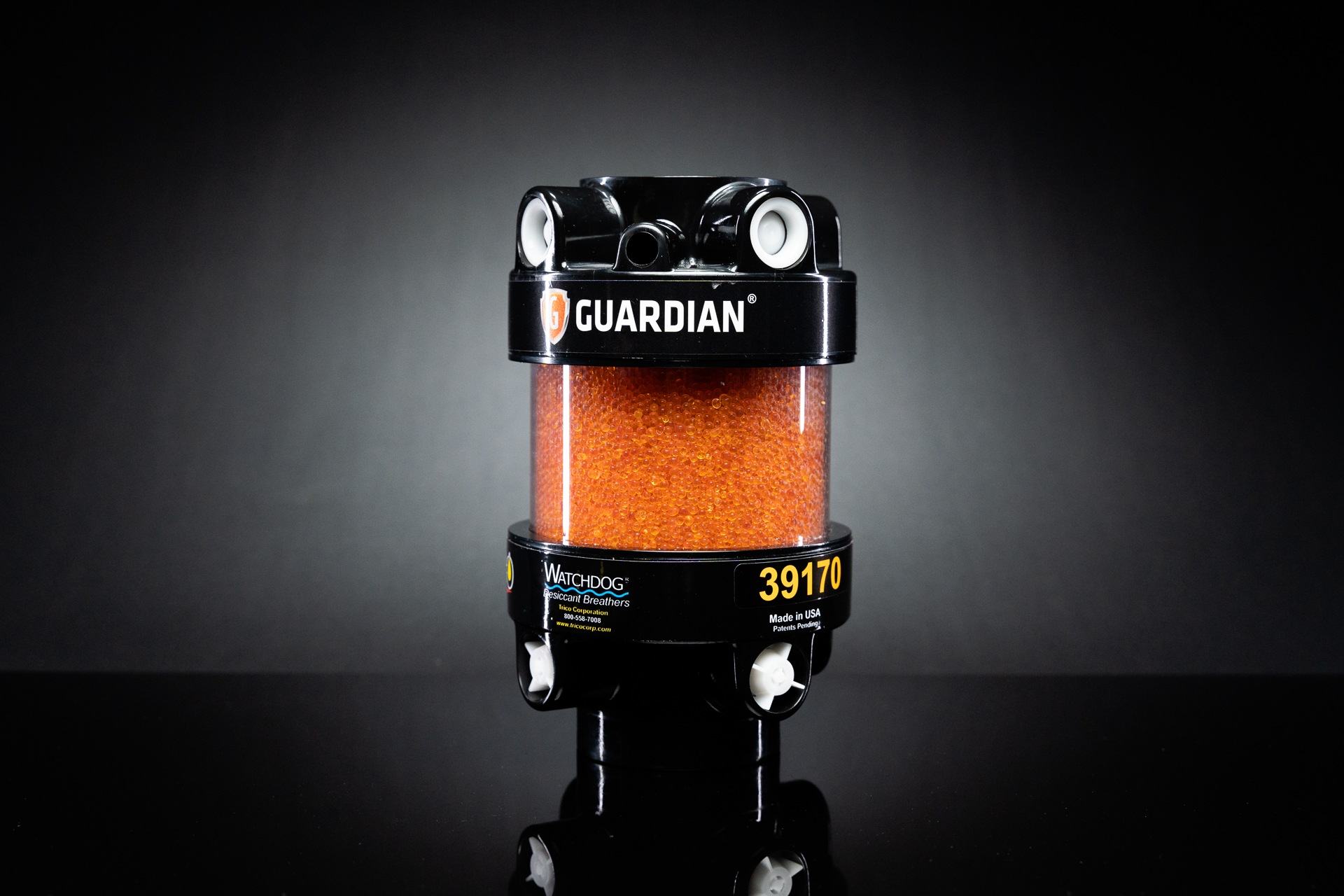 Feature
Isolation Check Valve
The Isolation Check Valve isolates the silica gel from exhaust air to lengthen the service life of the desiccant while also protecting it from harmful vapors and splashing fluids.
Feature
Visual Indication
When maximum adsorption is reached the silica gel turns from orange to dark green, indicating replacement is needed. The silica gel used is chemically inert, non-corrosive, and does not contain cobalt chloride, a heavy metal. The color-changing dye used is environmentally safe and meets all health and safety requirements.
Feature
Check Valves
The top check valves are on the inlet, and the bottom check valves are on the outlet. When the breather is in static conditions (no air movement) the check valves prevent ambient air from coming into contact with the desiccant, thus extending breather life.
Modular Design

Modular Design allows for more than one cartridge to be used in a single installation, extending service life and reducing costs and maintenance intervals.

Washdown Cap

An optional washdown cap provides barrier where frequent washdowns occur. This protects any direct spray from opening check valves on the top cap.

Water Vapor Adsorbent

The silica gel used in the Watchdog Extreme Humidity Breathers adsorbs up to 40% of its own weight.

Durable Construction

Manufactured with Tritan® that provides impact, temperature, and chemical resistance and is also BPA free.
Other Specs
| Model | Description | Height | Diameter | Connection | Silica Gel Volume | Water Capacity |
| --- | --- | --- | --- | --- | --- | --- |
| 39170 | Guardian Breather | 9 in | 5.125 in | 1" NPT Female | 1.5 lb | 9.2 fluid oz |
| 39171 | Guardian Breather | 9 in | 5.125 in | 2" NPT Female | 1.5 lb | 9.2 fluid oz |
| 39172 | Guardian Breather | 9 in | 5.125 in | 1" BSP Female | 1.5 lb | 9.2 fluid oz |
| 39173 | Guardian Breather | 12 in | 5.125 in | 1" NPT Female | 2.8 lb | 17.2 fluid oz |
| 39174 | Guardian Breather | 12 in | 5.125 in | 2" NPT Female | 2.8 lb | 17.2 fluid oz |
| 39175 | Guardian Breather | 12 in | 5.125 in | 1" BSP Female | 2.8 lb | 17.2 fluid oz |
| 39176 | Guardian Breather | 16 in | 5.125 in | 1" NPT Female | 4.5 lb | 27.6 fluid oz |
| 39177 | Guardian Breather | 16 in | 5.125 in | 2" NPT Female | 4.5 lb | 27.6 fluid oz |
| 39178 | Guardian Breather | 16 in | 5.125 in | 1" BSP Female | 4.5 lb | 27.6 fluid oz |
Description
Guardian Breather
Water Capacity
9.2 fluid oz
Description
Guardian Breather
Water Capacity
9.2 fluid oz
Description
Guardian Breather
Water Capacity
9.2 fluid oz
Description
Guardian Breather
Water Capacity
17.2 fluid oz
Description
Guardian Breather
Water Capacity
17.2 fluid oz
Description
Guardian Breather
Water Capacity
17.2 fluid oz
Description
Guardian Breather
Water Capacity
27.6 fluid oz
Description
Guardian Breather
Water Capacity
27.6 fluid oz
Description
Guardian Breather
Water Capacity
27.6 fluid oz
Check Valves

In/Out 0.1 PSI

Maximum Air Flow

25 CFM

Maximum Fluid Flow

187 GPM

Type of Medium

Silica Gel

Material

Tritan® (BPA free)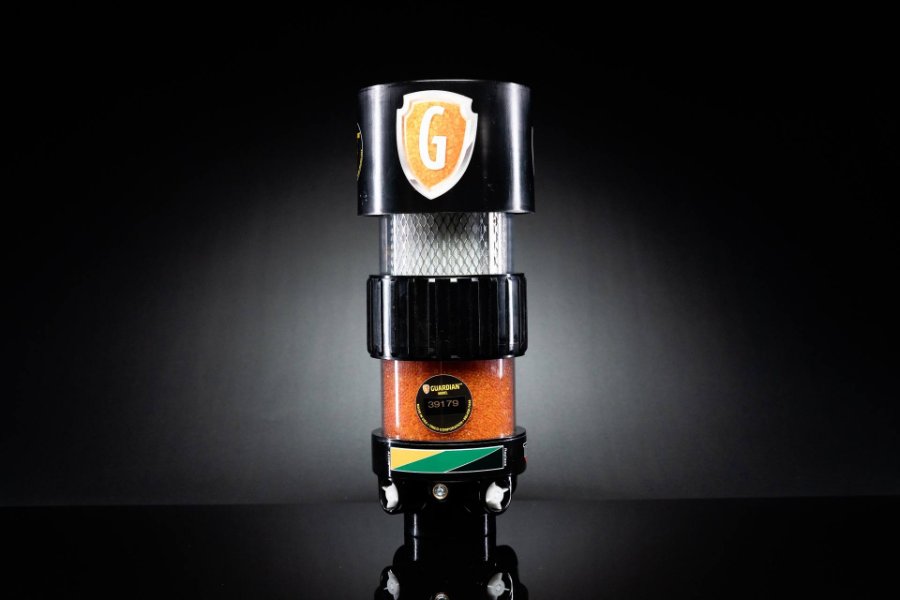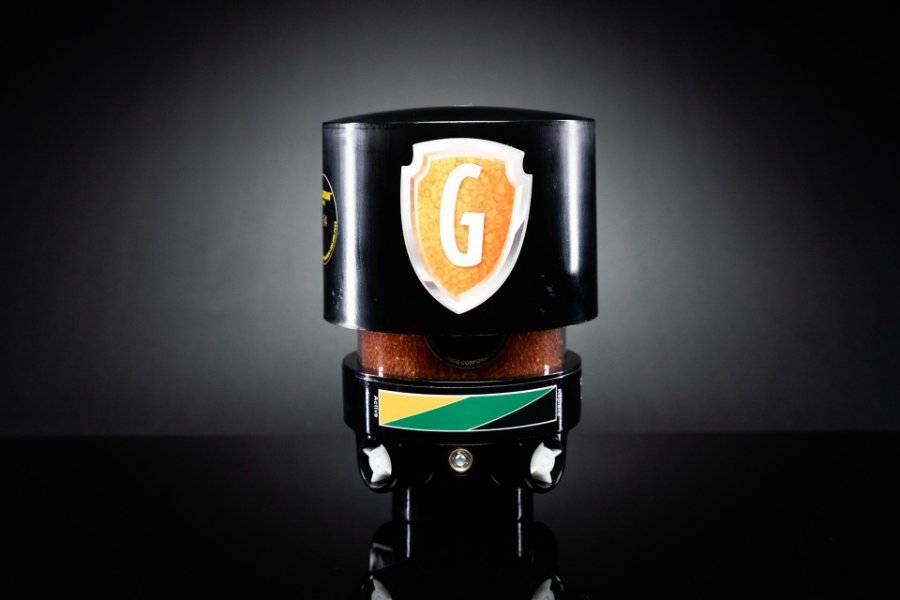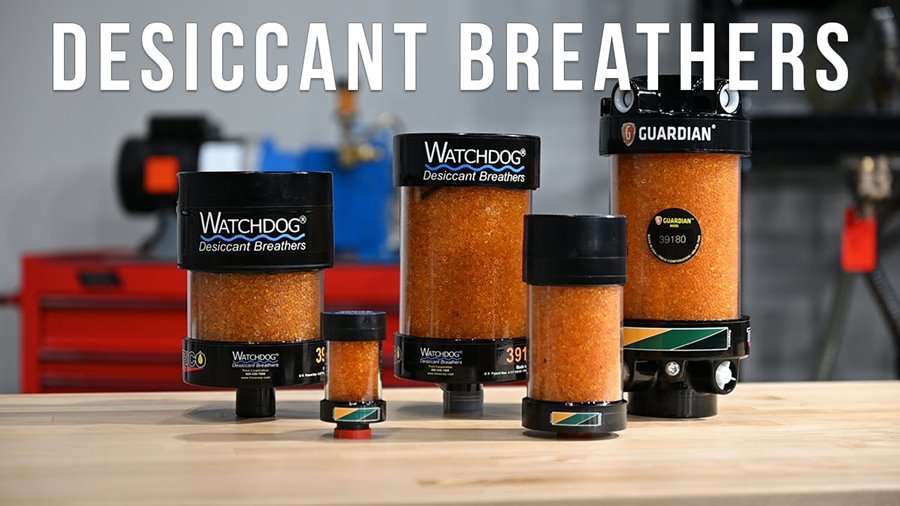 Learn More From Lubricology