Watchdog Desiccant Breather Adapters
Watchdog Desiccant Breathers are easily installed using one of several adapters designed for different applications.
Contact Us to Purchase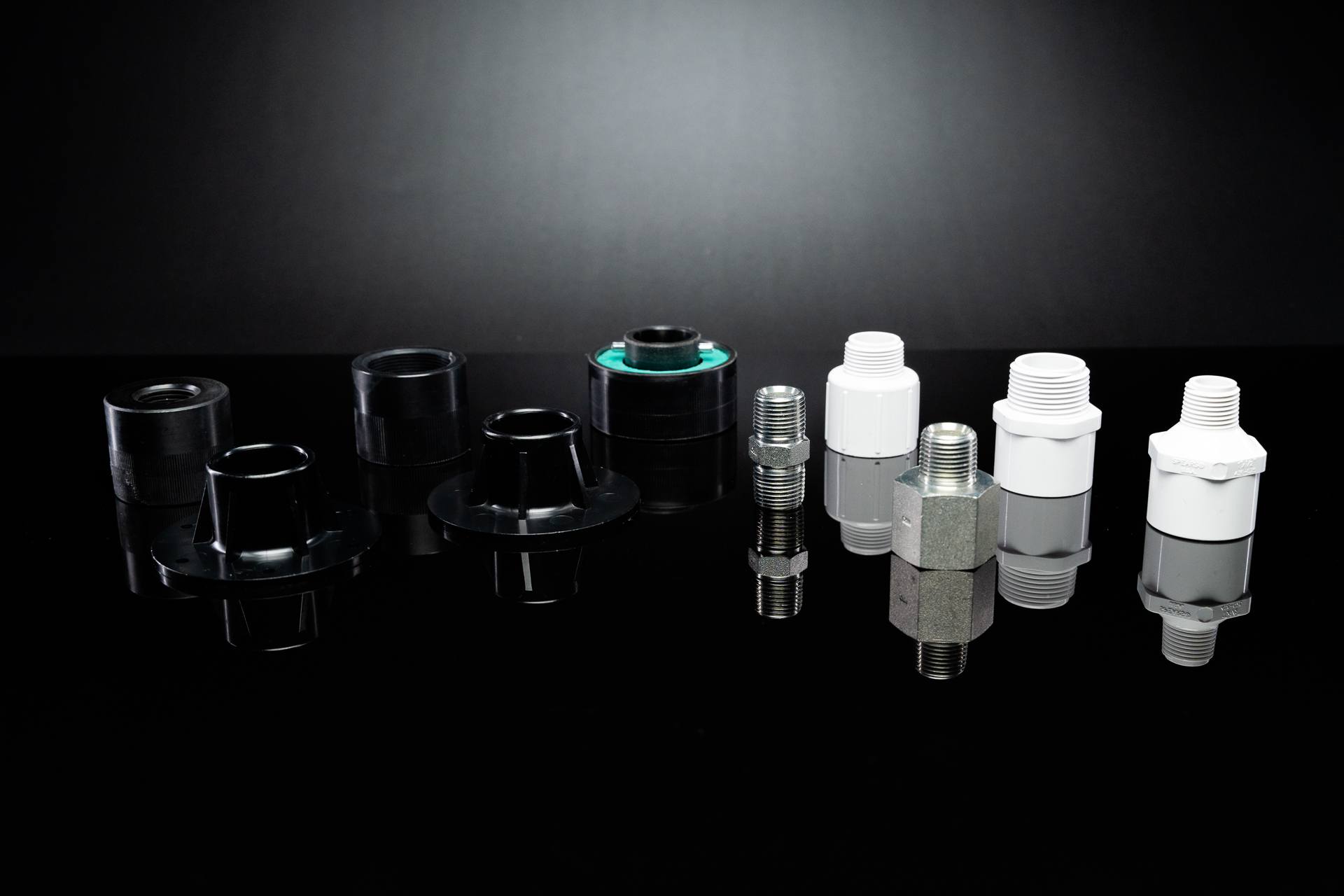 Feature
Bypass Adapter
The Bypass Adapter (39207) is designed for applications where there is very heavy oil mist being expelled from the equipment. When air is breathed into the equipment, it passes through the Watchdog® and is cleaned and dried. When the air is breathed out of the equipment, it enters the adapter and is expelled to the outside without passing back through the breather. This protects the breather from oil contamination. Breather sold separately.
Other Specs
| Model | Description | Desiccant Breather Adapter Style | T1 | T2 | Material |
| --- | --- | --- | --- | --- | --- |
| 39200 | Breather Adapter | Flange Adapter | 1" Slip Fit Female | Without Mounting Holes | ABS |
| 39201 | Breather Adapter | Flange Adapter | 1" Slip Fit Female | With 6 ANSI Mounting Holes | ABS |
| 39202 | Breather Adapter | Threaded Adapter | 1" Slip Fit Female | 1" MNPT | PVC |
| 39203 | Breather Adapter | Threaded Adapter | 1" Slip Fit Female | 3/4" MNPT | PVC |
| 39204 | Breather Adapter | Bayonet Adapter | 1" Slip Fit Female | Bayonet | High Density EDPM |
| 39206 | Breather Adapter | Spin-On Adapter | 1" Slip Fit Female | 1-1/2" - 16 UNF Female | High Density EDPM |
| 39207 | Breather Adapter | Bypass Adapter | 1" Slip Fit Female | 1" Slip Fit Male | PVC |
| 39208 | Breather Adapter | Threaded Adapter | 1/2" MNPT | 1/4" MNPT | Carbon Steel |
| 39209 | Breather Adapter | Threaded Adapter | 1/4" FNPT | 1/2" MNPT | Carbon Steel |
| 39210 | Breather Adapter | Threaded Adapter | 1/2" MNPT | 3/8" MNPT | Carbon Steel |
| 39211 | Breather Adapter | Threaded Adapter | 3/8" FNPT | 1/2" MNPT | Carbon Steel |
| 39212 | Breather Adapter | Threaded Adapter | 1/2" MNPT | 1/2" MNPT | Carbon Steel |
| 39213 | Breather Adapter | Threaded Adapter | 1/2" MNPT | 3/4" MNPT | Carbon Steel |
| 39214 | Breather Adapter | Threaded Adapter | 3/4" FNPT | 1/2" MNPT | Carbon Steel |
| 39215 | Breather Adapter | Threaded Adapter | 1/2" MNPT | 1" MNPT | Carbon Steel |
| 39216 | Breather Adapter | Threaded Adapter | 1" Slip Fit Female | 1/2" MNPT | PVC |
Description
Breather Adapter
Desiccant Breather Adapter Style
Flange Adapter
T2
Without Mounting Holes
Description
Breather Adapter
Desiccant Breather Adapter Style
Flange Adapter
T2
With 6 ANSI Mounting Holes
Description
Breather Adapter
Desiccant Breather Adapter Style
Threaded Adapter
Description
Breather Adapter
Desiccant Breather Adapter Style
Threaded Adapter
Description
Breather Adapter
Desiccant Breather Adapter Style
Bayonet Adapter
Description
Breather Adapter
Desiccant Breather Adapter Style
Spin-On Adapter
T2
1-1/2" - 16 UNF Female
Description
Breather Adapter
Desiccant Breather Adapter Style
Bypass Adapter
Description
Breather Adapter
Desiccant Breather Adapter Style
Threaded Adapter
Description
Breather Adapter
Desiccant Breather Adapter Style
Threaded Adapter
Description
Breather Adapter
Desiccant Breather Adapter Style
Threaded Adapter
Description
Breather Adapter
Desiccant Breather Adapter Style
Threaded Adapter
Description
Breather Adapter
Desiccant Breather Adapter Style
Threaded Adapter
Description
Breather Adapter
Desiccant Breather Adapter Style
Threaded Adapter
Description
Breather Adapter
Desiccant Breather Adapter Style
Threaded Adapter
Description
Breather Adapter
Desiccant Breather Adapter Style
Threaded Adapter
Description
Breather Adapter
Desiccant Breather Adapter Style
Threaded Adapter
Learn More From Lubricology