Spectrum Bulk Oil Storage System - Performance Stack
The Performance Stack provides best practices in storage and dispensing of lubricants with inline filtration. The Performance Stack System is designed to easily and effectively identify, store, handle, and dispense lubricants. It is an economical way to save space on a plant floor, while keeping lubricants organized and contaminant free.
The 65-gallon tank capacity eliminates the cost of wasted space, time, labor, and unnecessary equipment purchases required when using 55-gallon drums.
Contact Us to Purchase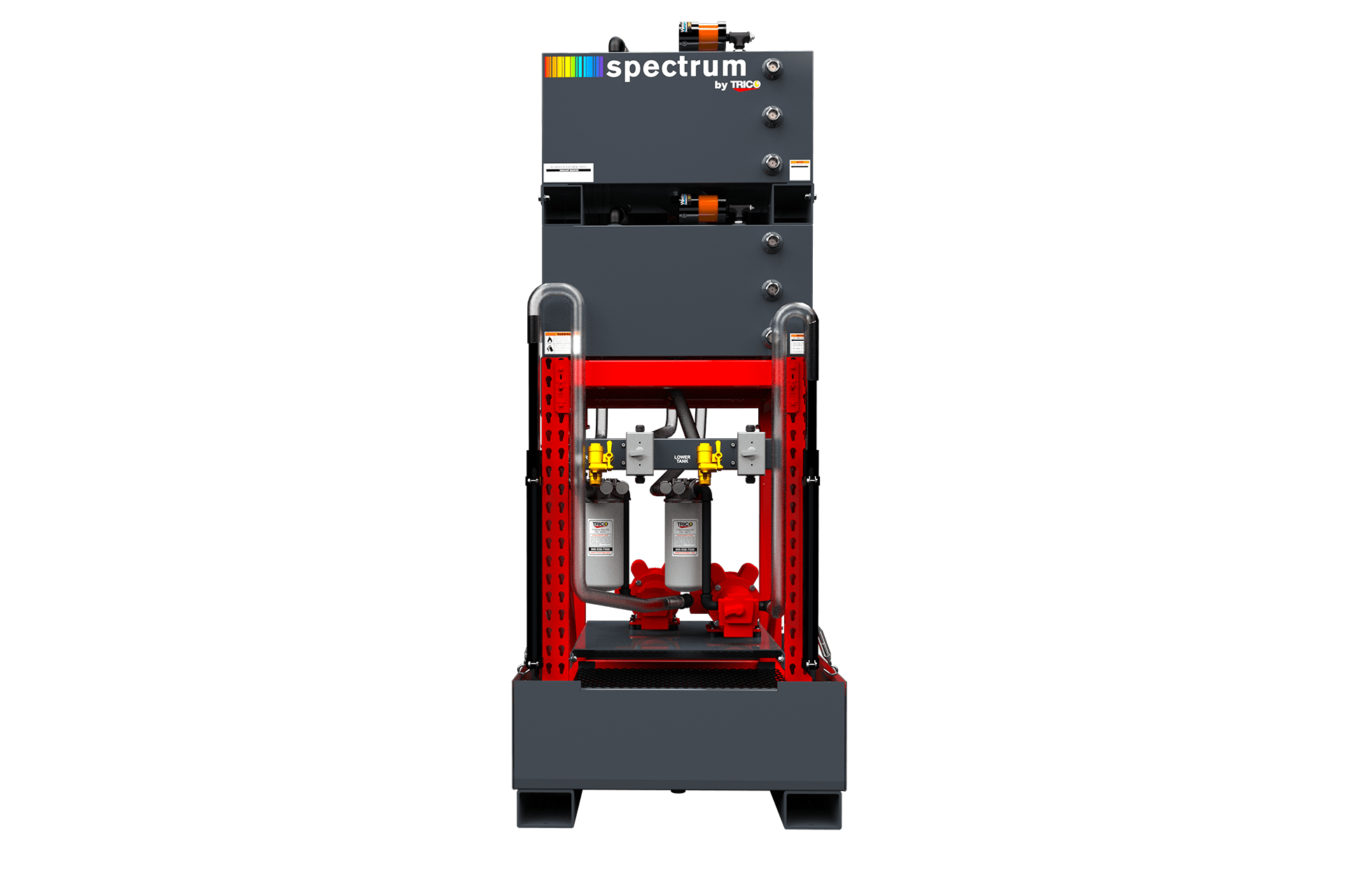 Feature
Contamination Control
The Performance Stack provides best practices in contamination control. Each tank has inline filtration, an individual pump, separate lubricant lines, and stainless-steel wands. This will prevent cross-contamination between different lubricants by having completely independent set ups for each storage tank. The inline filtration reduces the concentration of contaminants from the oils as they are being stored before use. The inline filtration for each tank has post-filter sampling port for oil sampling.
Feature
Integrated Forklift Pockets
The Performance Stack System comes with built in lift points for easy forklift and hand pallet transportation.
Feature
Color-Coded Organization
Eliminate the potential for mess and mishandling by keeping each fluid clearly identified with Trico's color-coded tags and labels, part of the Spectrum Visual Lubrication Management line of products.


Each label features a space to identify the specific substance contained within each tank, ensuring the right lubricant is delivered to the right equipment every time.
System comes with a set of 10 color labels and tags to clearly mark tanks and valves with oil type to ensure the right product is being used at the right application.
Feature
Self-Closing Brass Dispensing Valves
These heavy-duty self-closing valves make dispensing oil quick, easy, and spill-free. The valves include 3/4" NPT threaded openings.
65 Gallon Tanks

10 gallons of additional capacity allows you to pump all product out of a 55-gallon drum and into the Spectrum Bulk Oil Storage tank.

Expandable System

Easily add extra tanks with additional stack systems.

Oil Sampling Ports

Oil sampling ports included post filter

Heavy Gauge Racking

The heavy gauge racking supports tanks when completely filled with lubricant.

Spill Containment and Dispensing Area

Heavy duty steel constructed and built to exceed regulations of 110% capacity

Desiccant Breathers

Prevents moisture and particulate contamination from entering tanks

Sight Ports

Provides quick easy indication of oil level

Shut-Off Ball Valves

Each tank is equipped with its own valve to shut-off the oil flow

Stainless Steel Wands

These heavy-duty stainless-steel wands are corrosion resistant to provide long life and are used to fill tanks.

Pump Control Switch

Customer mounted on/off switch to control the operation of the pump

Bronze Gear Pump

A self-priming pump saves time.

Pressure Relief Valve

Prevents over pressurizing and damage to tanks
Other Specs
| Model | Description | Pump Motor | Depth | Width | Height |
| --- | --- | --- | --- | --- | --- |
| 37210 | Performance Stack | 120V 20 AMP | 46" | 36" | 88" |
| 37246 | Performance Stack | Pneumatic | 46" | 36" | 88" |
| 37258 | Performance Stack | 50 Hz | 46" | 36" | 88" |
Description
Performance Stack
Description
Performance Stack
Description
Performance Stack
Tank Size

65 Gallons

Tank Material

Powder Coated Steel

Frame Material

Powder Coated Steel

Oil Level Indications

Viewports

Oil Type Indicator

Color-Coded Labels and Tags

Filtration

Inline Filtration

Filter

2 – 10 Micron Filters

Electric Motor

1.5 HP @ 1750 RPM

Pneumatic Motor

4 HP @ Max 3000 RPM

Pump Type

2 – Industrial Grade Gear Pump

Desiccant Breather

2 – Dedicated Breather for Each Tank

Wand

2 – 1″ ID Stainless Steel Wand

Hoses

1-1/4″ ID Heavy Wall Wire PVC

Spill Containment

Yes – 73 Gallons (OSHA Compliant)

Dispensing Valves

Self-Closing Bronze Valves

Emergency Stop

No

Power Dispense

No

Filter Life Indicator

Pressure Differential

Sampling Ports

Post Filter

Maximum Viscosity

ISO 680 at room temperature (70ºF)

Power

120V 20 AMP (50 Hz option available)

Maximum Temperature

150ºF (65ºC)

Rack Capacity

2500 lbs

Overall Size

88″H x 36″W x 46″D

Dry Weight

860 lbs

Shipping Skid Size

41″ x 58″

Wetted Parts Material Composition

Steel – Stainless, Galvanized & Zinc; Viton; Buna; Brass; Bronze; Iron – Galvanized & Black Coated; PVC; Aluminum

Warning

For use with only petroleum-based fluids. Do not use with solvents or fuels.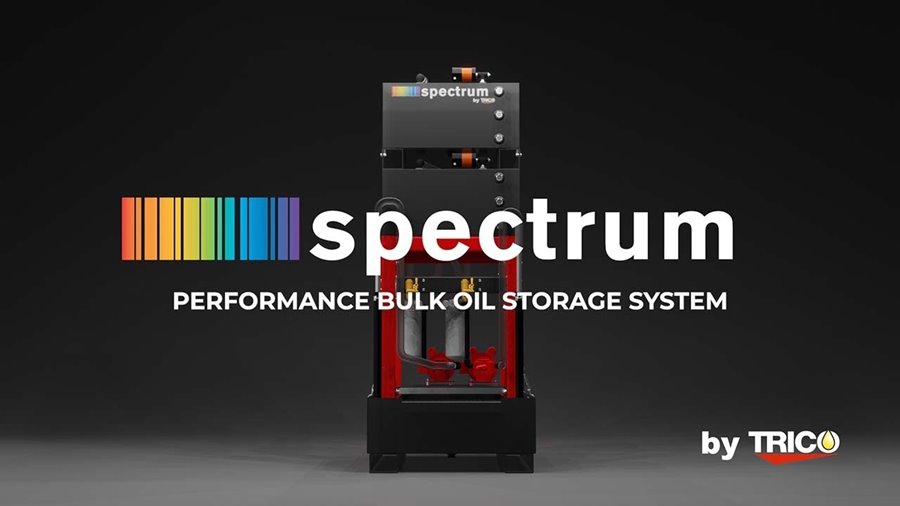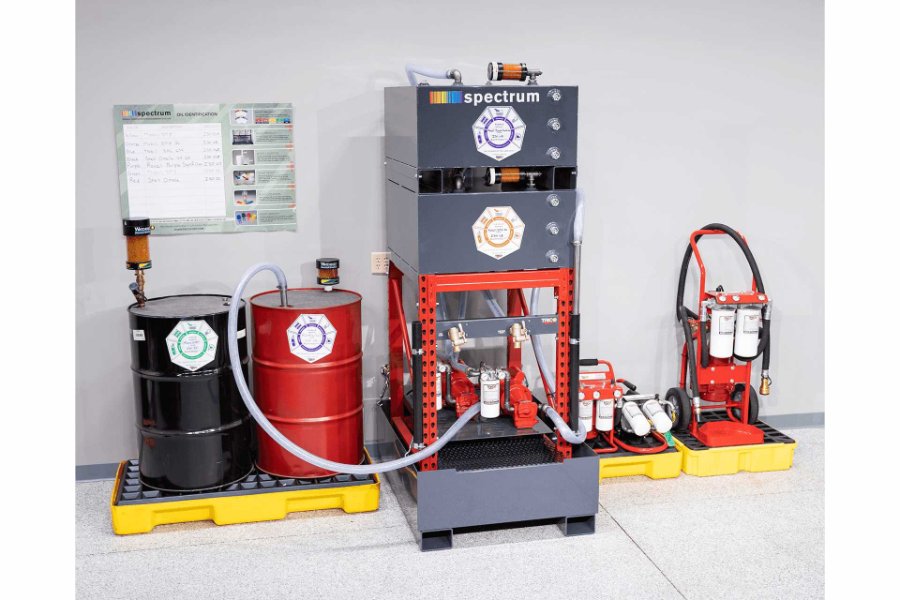 Learn More From Lubricology