PE-40 Series
The PE-40 Series Continuous Pumps are designed for applications where lubrication of critical components is needed on a continual basis, rather than on a timed basis. Using control units, these pumps provide lubricant at flow rates of 250 cc/min. Common applications include injection molding, printing presses, punch presses, and milling machines.
Contact Us to Purchase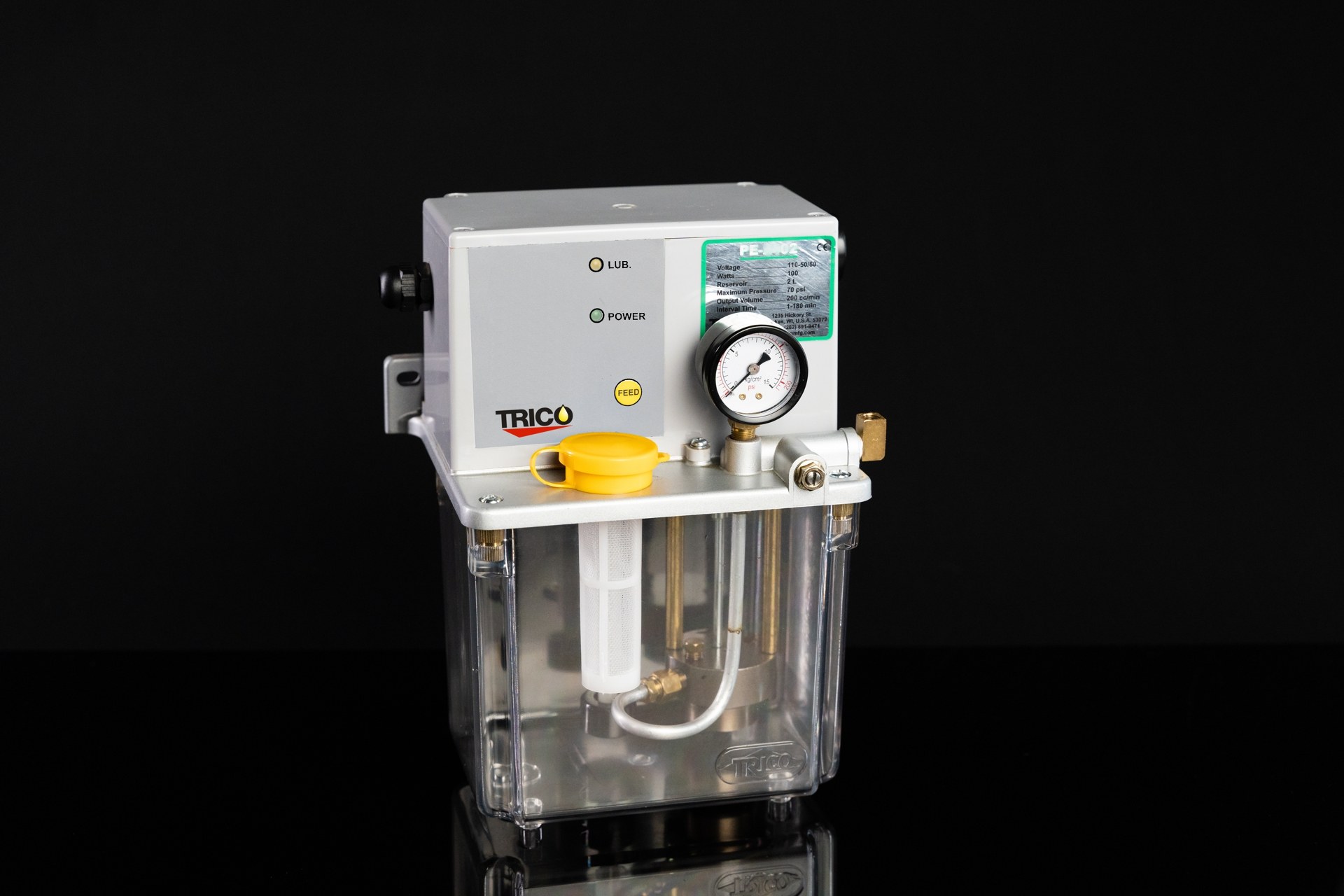 Low Level Indication

Standard float switch provides signal when lubricant level is low

Durable Reservoirs

Easy view plastic reservoir on 3-liter models, steel reservoir with sight gauge on 6-, 8-, and 20-liter reservoirs

Return to Tank Port

Return to tank port available on 6-, 8-, and 20-liter models for returning unused oil to reservoir

Pressure Gauge

Pressure gauge provides real time monitoring of the system lubricant delivery

Safety Relief Valve

Safety relief valve assures reliable performance

System Protection

Pressure switch, with reset button, shuts down pump if system pressure drops below set level, protecting against line or component failure

Easy Filling

Large fill plug simplifies adding or changing lubricant

Oil Filter

Convenient drop-in filter in fill port keeps oil clean

Accessories

These pumps use control units in single or multiple point applications. Control units, fittings, and accessories are available to create a central lubrication system.
Other Specs
| Model | Description | Style | Reservoir Capacity (liters) | Reservoir Material | Pressure Switch | Output Volume (cc/min) |
| --- | --- | --- | --- | --- | --- | --- |
| PE-4003 | Continuous Pump | Without Return to Tank Port | 3 | Plastic | Yes | 250 |
| PE-4006 | Continuous Pump | Without Return to Tank Port | 6 | Metal | Yes | 250 |
| PE-4008 | Continuous Pump | Without Return to Tank Port | 8 | Metal | Yes | 250 |
| PE-4020 | Continuous Pump | Without Return to Tank Port | 20 | Metal | Yes | 250 |
| PE-4206 | Continuous Pump | With Return to Tank Port | 6 | Metal | Yes | 250 |
| PE-4208 | Continuous Pump | With Return to Tank Port | 8 | Metal | Yes | 250 |
| PE-4220 | Continuous Pump | With Return to Tank Port | 20 | Metal | Yes | 250 |
Description
Continuous Pump
Style
Without Return to Tank Port
Reservoir Capacity (liters)
3
Reservoir Material
Plastic
Output Volume (cc/min)
250
Description
Continuous Pump
Style
Without Return to Tank Port
Reservoir Capacity (liters)
6
Output Volume (cc/min)
250
Description
Continuous Pump
Style
Without Return to Tank Port
Reservoir Capacity (liters)
8
Output Volume (cc/min)
250
Description
Continuous Pump
Style
Without Return to Tank Port
Reservoir Capacity (liters)
20
Output Volume (cc/min)
250
Description
Continuous Pump
Style
With Return to Tank Port
Reservoir Capacity (liters)
6
Output Volume (cc/min)
250
Description
Continuous Pump
Style
With Return to Tank Port
Reservoir Capacity (liters)
8
Output Volume (cc/min)
250
Description
Continuous Pump
Style
With Return to Tank Port
Reservoir Capacity (liters)
20
Output Volume (cc/min)
250
Reservoir Capacity

3 Liter Plastic
6, 8, and 20 Liter Steel

Motor Voltage

110-1-50/60 Standard
220-1-50/60 Optional

Pump Type

Gear Pump

Maximum Pressure

140 PSI

Output Connection

5/16-24 (f)

Seals

Buna-N

Operating Temperature

32-120ºF
Learn More From Lubricology