Streamliner V Grease Dispensers
Streamliner V grease dispensers are designed for applications where it is essential to have precise amounts of grease delivered to critical machine parts. They are a cost-effective alternative to fully integrated lube systems or manual lubrication. The Streamliner V grease dispensers have a variable dispensing rate from 1 to 12 months and are controlled by an electrochemical reaction and microprocessor to ensure reliable and predictable lubricant delivery.
Contact Us to Purchase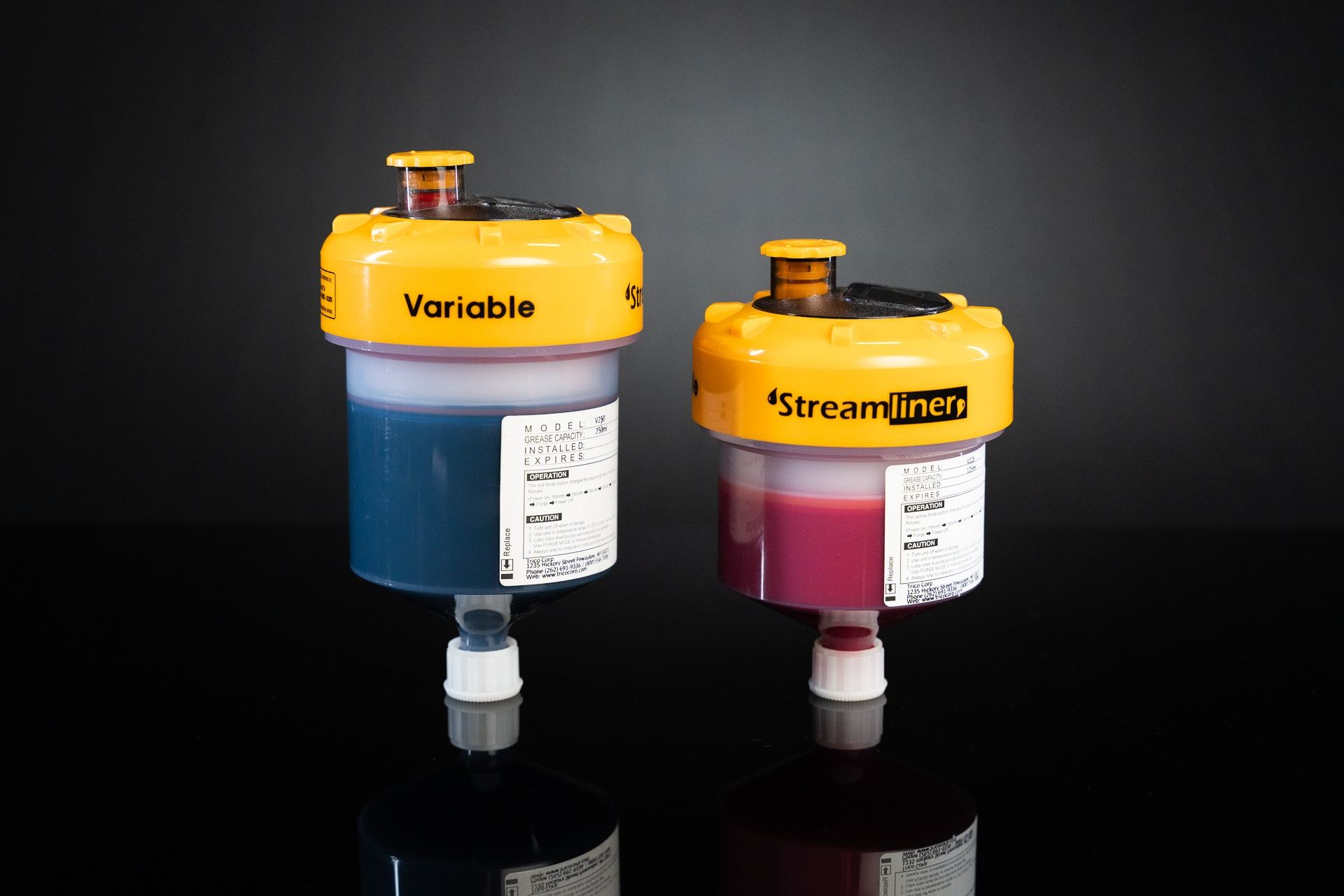 Feature
Programmable
Pressing the "mode" button allows the user to select a dispensing period of 1, 2, 3, 6, or 12 months. It also is used to turn off the unit or put the unit in purge mode to dispense large quantities of grease.
Accuracy

Microprocessor controlled to ensure the most accurate dispensing rate

Variable Dispensing Rates

Six variable dispensing rates of 1, 2, 3, 6, 12 months, and purge

Disposable

The unit comes pre-filled with one of six standard grease types. When unit is spent of grease, simply dispose of it.

Economical

Available in 125cc and 260cc grease capacity

Level Indication

Transparent reservoir for easy viewing of grease level

Indicator Light

Green LED indicates unit operation
Other Specs
| Model | Description | Grease Capacity | Grease Type | NLGI# | Thickener Type |
| --- | --- | --- | --- | --- | --- |
| 33333 | Streamliner V | 125 cc | Mobilgrease XHP 222 | 2 | Lithium Complex |
| 33334 | Streamliner V | 125 cc | Exxon Unirex EP2 | 2 | Lithium Complex |
| 33335 | Streamliner V | 125 cc | Mobilith SHC 100 | 2 | Lithium Complex |
| 33336 | Streamliner V | 125 cc | Mobilgrease FM 222 | 2 | Aluminum Complex |
| 33337 | Streamliner V | 125 cc | Mobilith SHC 220 | 2 | Lithium Complex |
| 33338 | Streamliner V | 125 cc | Mobilith SHC PM 460 | 1.5 | Lithium Complex |
| 33340 | Streamliner V | 250 cc | Mobilgrease XHP 222 | 2 | Lithium Complex |
| 33341 | Streamliner V | 250 cc | Exxon Unirex EP2 | 2 | Lithium Complex |
| 33342 | Streamliner V | 250 cc | Mobilith SHC 100 | 2 | Lithium Complex |
| 33343 | Streamliner V | 250 cc | Mobilgrease FM 222 | 2 | Aluminum Complex |
| 33344 | Streamliner V | 250 cc | Mobilith SHC 220 | 2 | Lithium Complex |
| 33345 | Streamliner V | 250 cc | Mobilith SHC PM 460 | 1.5 | Lithium Complex |
Description
Streamliner V
Grease Type
Mobilgrease XHP 222
Thickener Type
Lithium Complex
Description
Streamliner V
Grease Type
Exxon Unirex EP2
Thickener Type
Lithium Complex
Description
Streamliner V
Grease Type
Mobilith SHC 100
Thickener Type
Lithium Complex
Description
Streamliner V
Grease Type
Mobilgrease FM 222
Thickener Type
Aluminum Complex
Description
Streamliner V
Grease Type
Mobilith SHC 220
Thickener Type
Lithium Complex
Description
Streamliner V
Grease Type
Mobilith SHC PM 460
Thickener Type
Lithium Complex
Description
Streamliner V
Grease Type
Mobilgrease XHP 222
Thickener Type
Lithium Complex
Description
Streamliner V
Grease Type
Exxon Unirex EP2
Thickener Type
Lithium Complex
Description
Streamliner V
Grease Type
Mobilith SHC 100
Thickener Type
Lithium Complex
Description
Streamliner V
Grease Type
Mobilgrease FM 222
Thickener Type
Aluminum Complex
Description
Streamliner V
Grease Type
Mobilith SHC 220
Thickener Type
Lithium Complex
Description
Streamliner V
Grease Type
Mobilith SHC PM 460
Thickener Type
Lithium Complex
Operating Temperature

-4ºF – 140ºF

Maximum Working Pressure

80 psi

Dispensing Rates

1, 2, 3, 6, 12 months, and purge

Six Standard Greases

Mobilgrease XHP 222
Exxon Unirex EP2
Mobil SHC 100
Mobilgrease FM 222
Mobilith SHC 220
Mobilith SHC PM 460

Anti-Explosive Certi Grade

Ex ia I/II B T6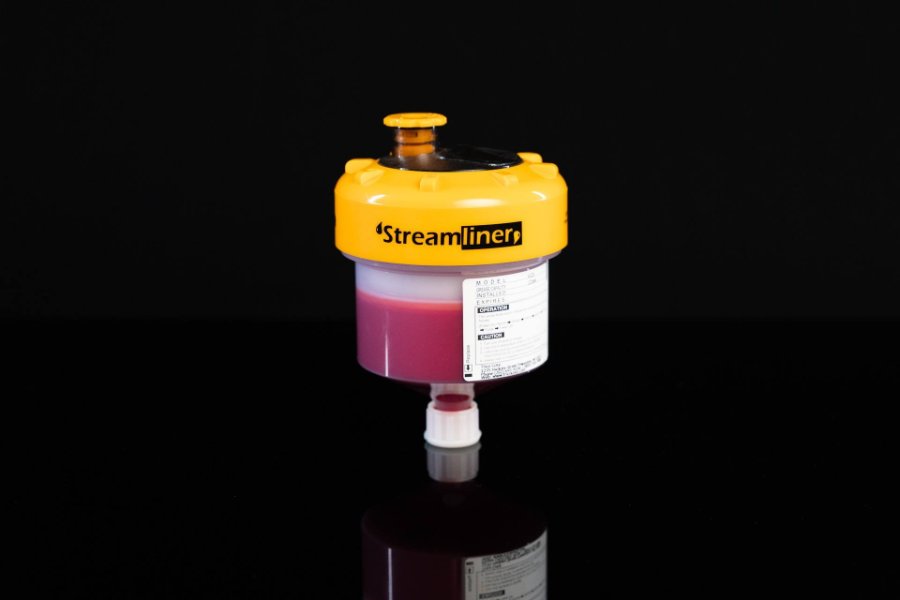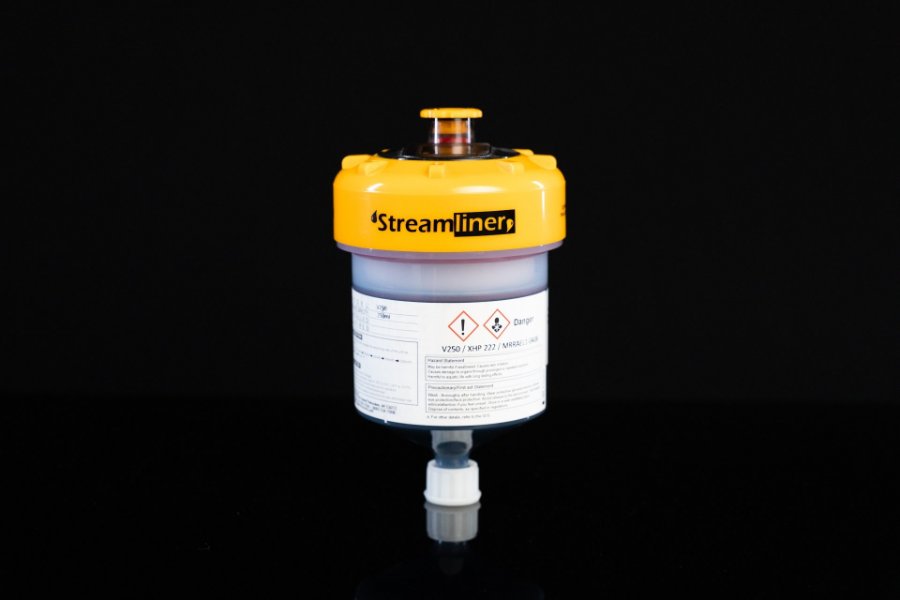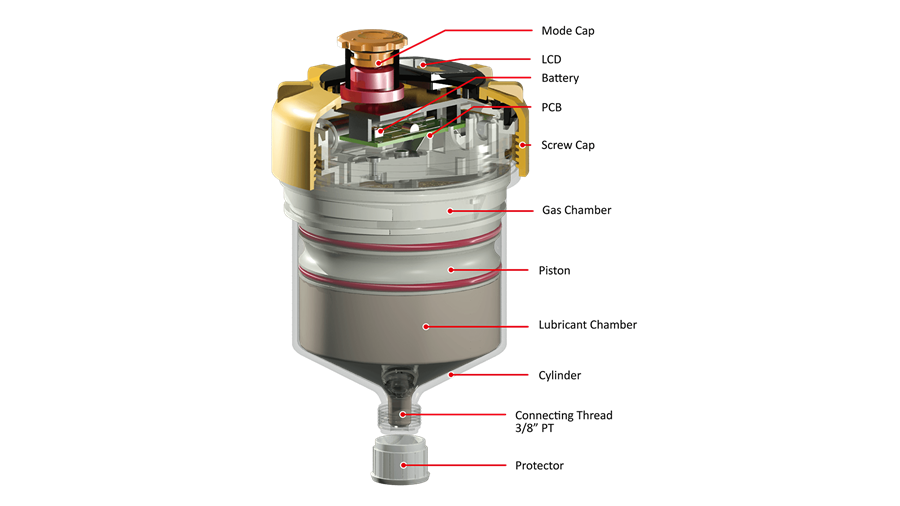 Learn More From Lubricology