Streamliner M Grease Dispenser
Streamliner M Grease Dispensers are designed to ensure reliable and precise lubrication while reducing lubrication costs with its advanced electro-mechanical drive. The unit consists of a vertical feed pump, motor and gear set, and microprocessor control system, allowing operating pressures up to 280 psi, which makes it ideal for use in remote and multi-point applications.
Contact Us to Purchase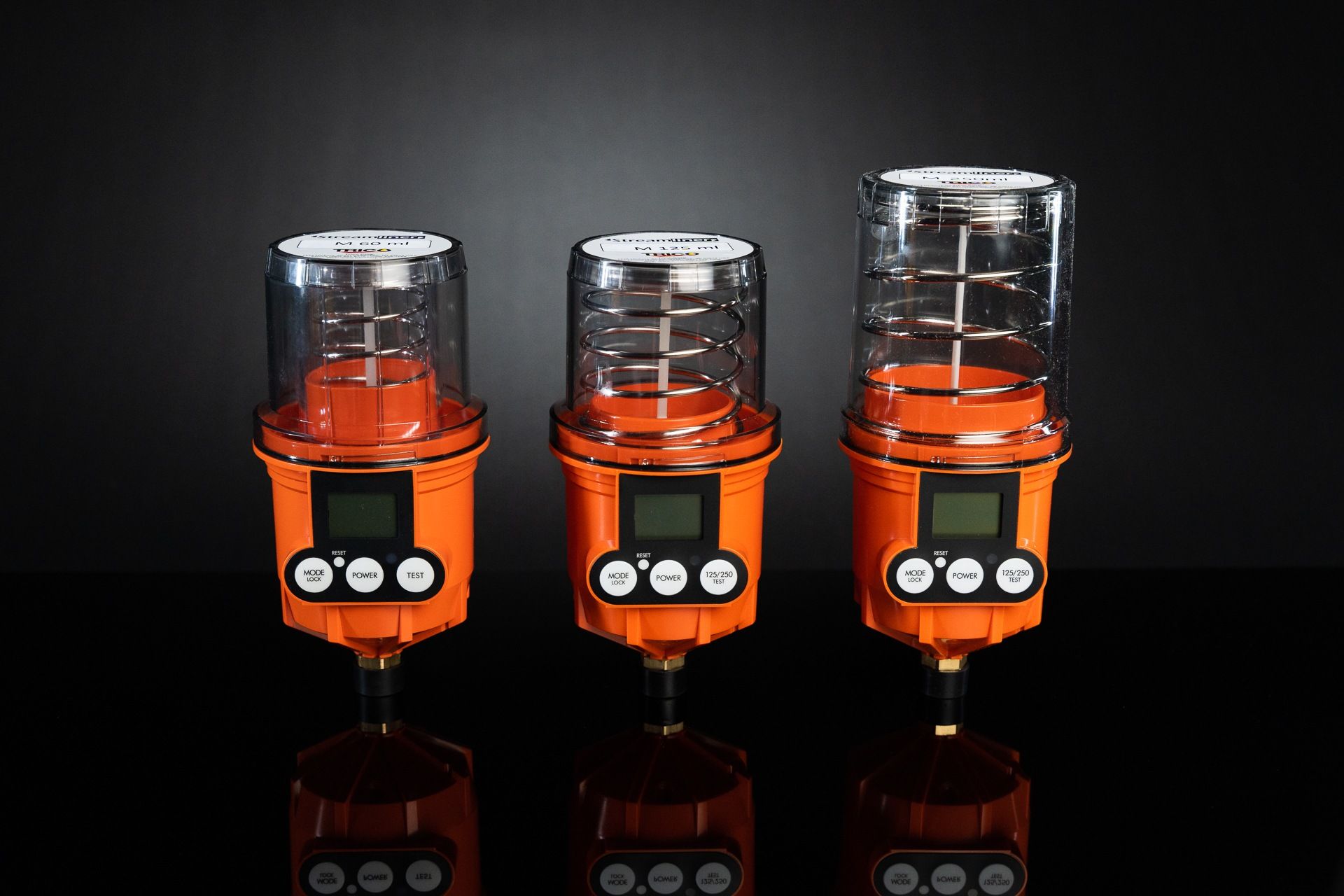 Feature
Multi-Point Capability
The dispenser has a high operating pressure of 280 psi making it ideal for use in remote and multi-point applications. When used with a Distribution Block a single unit can lubricate up to eight lubrication points.
Feature
Refillable
One of the most significant benefits of the Streamliner M Grease Dispenser is the savings over the cost of manual lubrication while providing reliable lubrication. The units are refillable through the use of a replaceable grease pouch. The grease pouch is available in 125cc and 250cc and are prefilled with one of six standard greases. Grease pouches are sold as a Service pack which includes a battery pack and dust cover as well.
Special Feature
Intuitive LCD Display
Large built-in LCD makes it easy to read and provides all the necessary information to optimally monitor the condition of the unit and the lubrication point.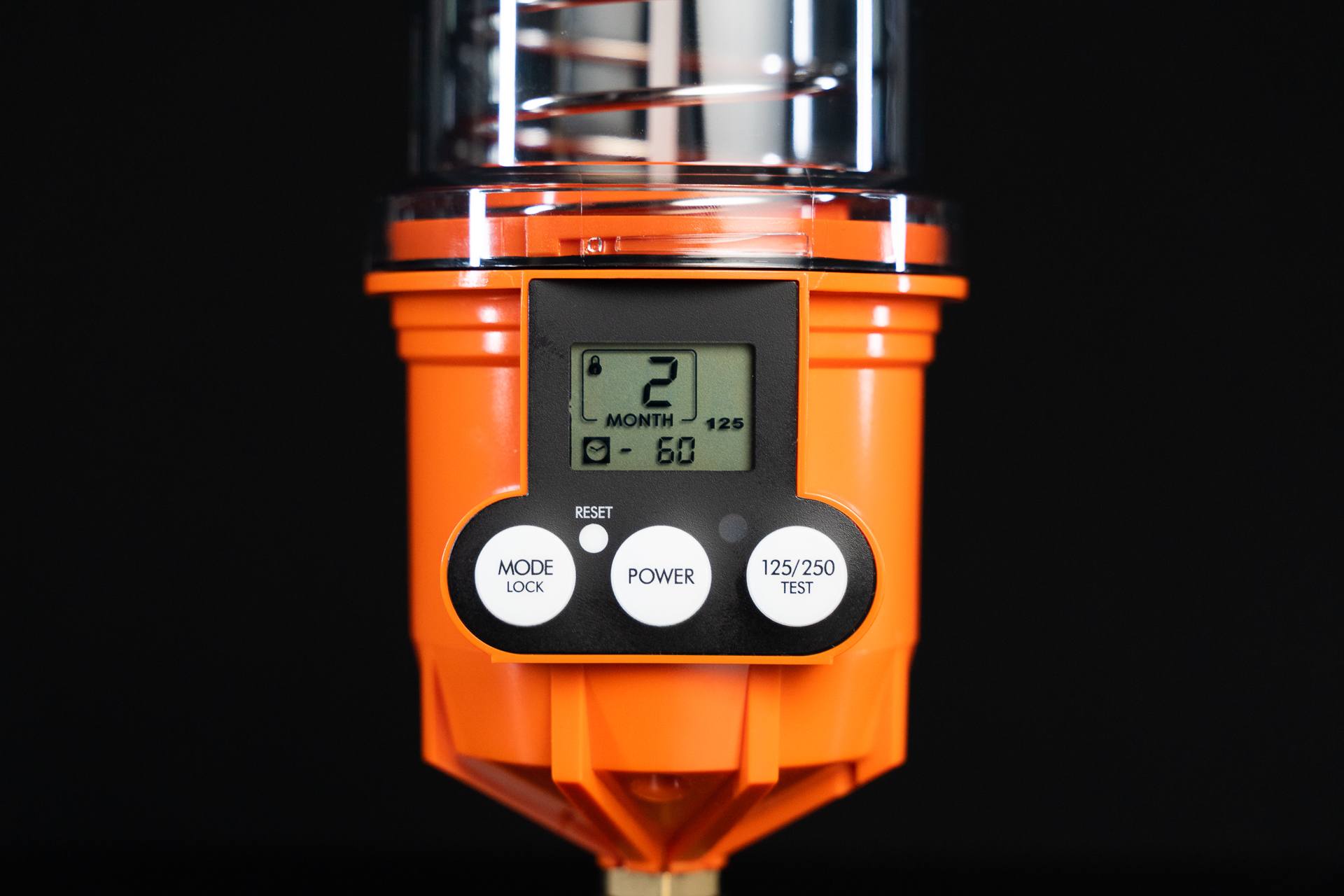 LCD Display
Dispensing Period
Displays selected dispensing rate from a choice of six – 1, 2, 3, 6, 12, and half month.

Days Until Empty
Displays the number of days remaining until grease pouch is empty.

Grease Capacity
Indicates the selected grease pouch capacity installed in the unit.

Test Mode
Notification that the unit is in test mode which runs a cycle to check for proper operation of the unit.
Empty Notification
Notification the unit is empty and the number of days since the grease pouch has been empty.

On Hold Notification
Provides notification of operation on hold due to excessive backpressure and the number of days operation has been on hold.

Battery Notification
Low battery power icon indicator.

Alert Status
A red LED blinks when battery level is low, excessive backpressure exists, or grease level is empty.
Feature
Durable Construction
The thread is tempered steel with a brass finish allowing the unit to excel in high vibration applications.
Accuracy

Electro-mechanical driven with microprocessor control for precise lubrication delivery.

Variables Dispensing Rates

Select one of six variable dispensing rates from 1, 2, 3, 6, 12, and half month.
Other Specs
| Model | Description | Dispenser Type | Reservoir Capacity | Thread Connection | Normal Operating Pressure |
| --- | --- | --- | --- | --- | --- |
| 33347 | Streamliner M | Standard | 125 cc | 3/8" NPT | 280 psi |
| 33348 | Streamliner M | Standard | 250 cc | 3/8" NPT | 280 psi |
| 33385 | Streamliner M | Standard | 60 cc | 3/8" NPT | 280 psi |
Description
Streamliner M
Reservoir Capacity
125 cc
Thread Connection
3/8" NPT
Normal Operating Pressure
280 psi
Description
Streamliner M
Reservoir Capacity
250 cc
Thread Connection
3/8" NPT
Normal Operating Pressure
280 psi
Description
Streamliner M
Thread Connection
3/8" NPT
Normal Operating Pressure
280 psi
Grease Pouch Capacity

60cc (2 oz), 125cc (4 oz), and 250 cc (8oz) (replaceable)

Power Supply

DC 4.5 Volt (Replaceable)

Normal Operating Pressure

280 psi

Maximum Operating Pressure

800 psi

Operating Temperature

Standard Alkaline Battery: 5ºF – 140ºF | Lithium Battery: -40ºF – 140ºF

Dispensing Rates

Half, 1, 2, 4, 6, 12, months

Lube Cycle

Approx. 20 seconds/stroke

Dispensing Volume

.33 +/- .01 gram/stroke @ 68ºF

Dispensing Accuracy

+/- 3% @ 68ºF

Six Standard Greases

Mobilgrease XHP 222
Exxon Unirex EP2
Mobil SHC 100
Mobilgrease FM 222
Mobilith SHC 220
Mobilith SHC PM 460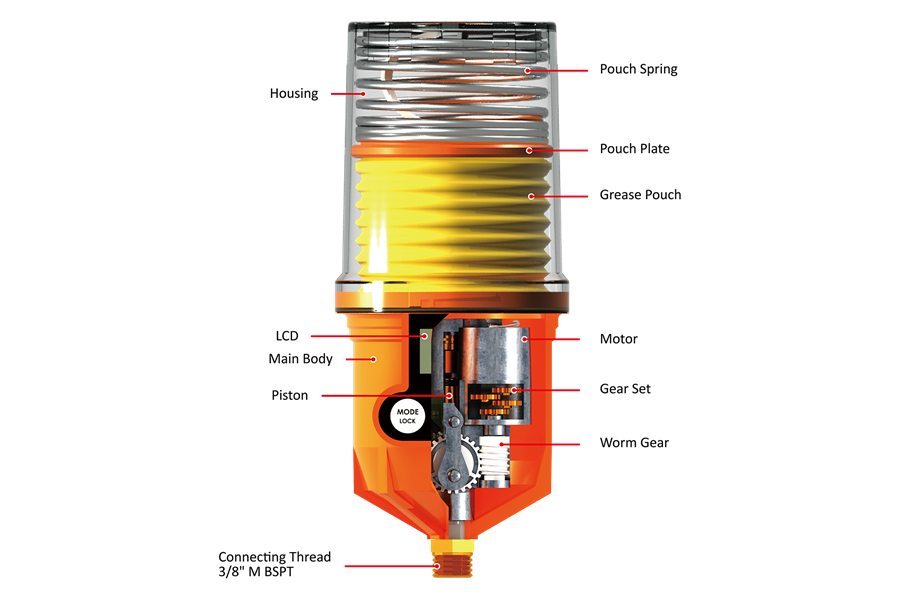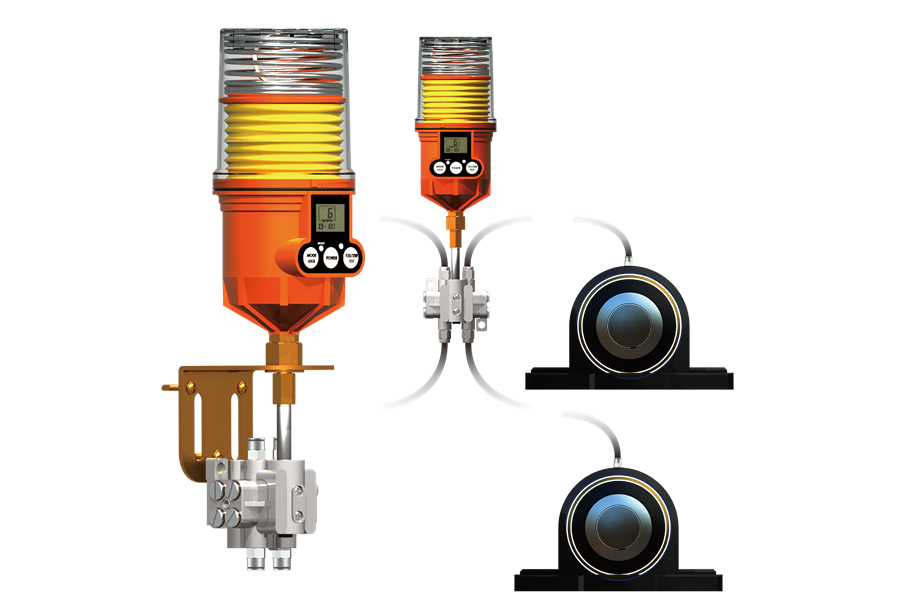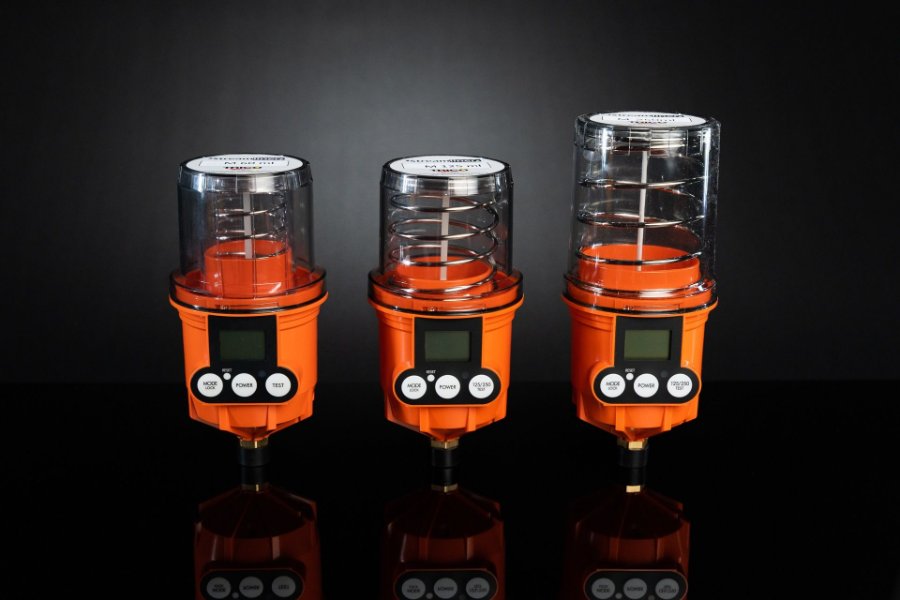 Learn More From Lubricology