PE-10 & PE-12 Series
The PE-10 & PE-12 Series automatic cyclic pumps are used in heavy-duty applications requiring a timed delivery of lubricant. These durable pumps provide long life and trouble-free service. With variable lubricant outputs and a choice of cycle times, they offer excellent versatility in many applications. Common applications include punch presses, milling machines, and other machine tools.
Contact Us to Purchase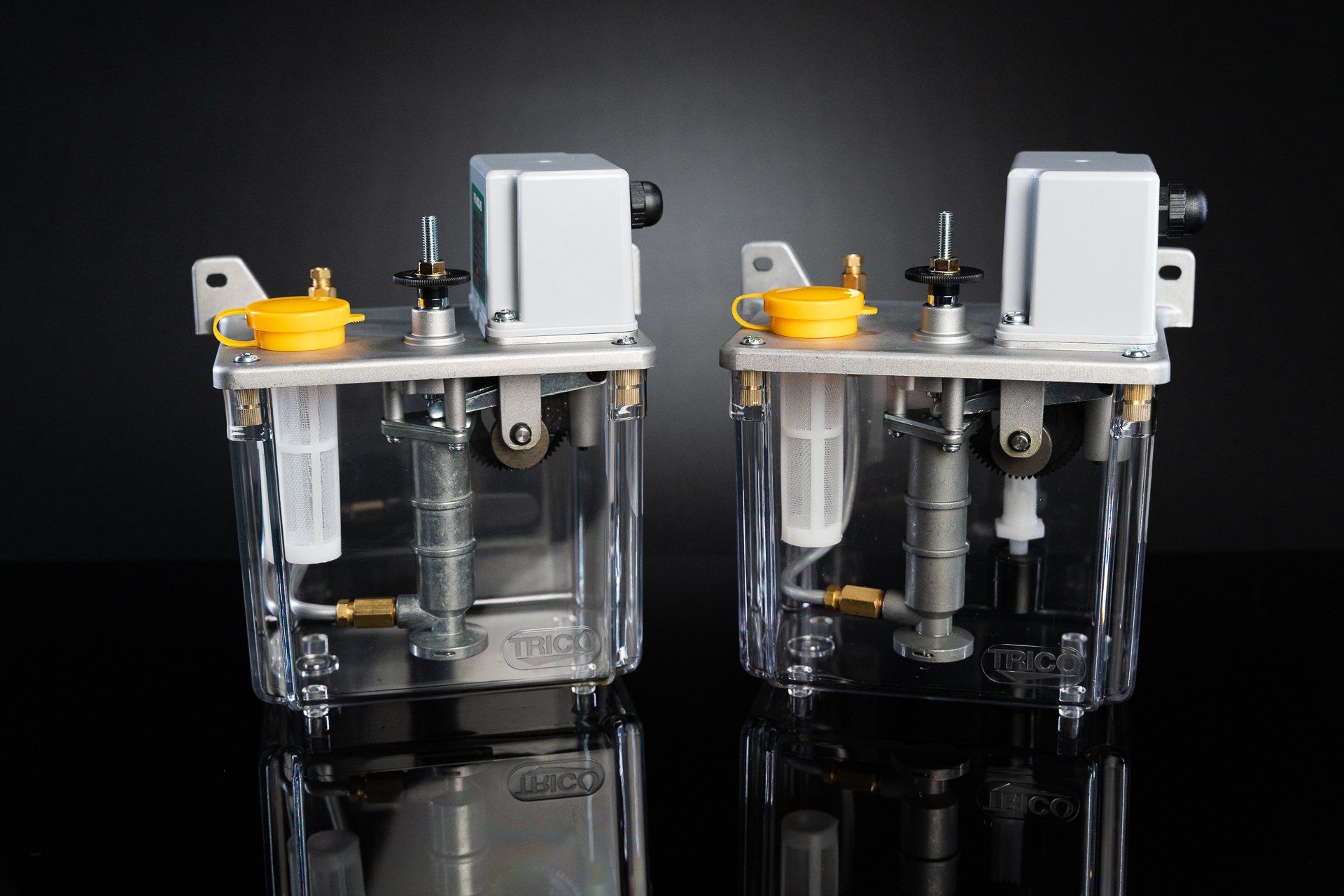 Feature
Lubricant Delivery Setting
An adjustment screw with a calibrated rod simplifies setting the lubricant delivery output. Adjustable output range of 3 to 6 cc/cycle, or 3 to 120 cc/hour.
Feature
Easy Filling
A large fill plug simplifies adding or changing lubricant.
Feature
Low Level Switch
The PE-12 Series has a low level switch to signal when lubricant level is low.
Oil Level Indication

Transparent 2-liter reservoir simplifies viewing oil level

Oil Filter

Convenient drop-in filter in fill port keeps oil clean

Accessories

This pump is commonly used with meter units in single or multiple point applications. Meter units, fittings, and accessories are available.
Other Specs
| Model | Description | Interval Time | Low Level Switch | Output (cc/cycle) | Min Output (cc/hour) | Max Output (cc/hour) |
| --- | --- | --- | --- | --- | --- | --- |
| PE-1002-03 | Automatic Pump | 3 | No | 3-6 | 60 | 120 |
| PE-1002-05 | Automatic Pump | 5 | No | 3-6 | 36 | 72 |
| PE-1002-10 | Automatic Pump | 10 | No | 3-6 | 18 | 36 |
| PE-1002-15 | Automatic Pump | 15 | No | 3-6 | 12 | 24 |
| PE-1002-30 | Automatic Pump | 30 | No | 3-6 | 6 | 12 |
| PE-1002-60 | Automatic Pump | 60 | No | 3-6 | 3 | 6 |
| PE-1202-03 | Automatic Pump | 3 | Yes | 3-6 | 60 | 120 |
| PE-1202-05 | Automatic Pump | 5 | Yes | 3-6 | 36 | 72 |
| PE-1202-10 | Automatic Pump | 10 | Yes | 3-6 | 18 | 36 |
| PE-1202-15 | Automatic Pump | 15 | Yes | 3-6 | 12 | 24 |
| PE-1202-30 | Automatic Pump | 30 | Yes | 3-6 | 6 | 12 |
| PE-1202-60 | Automatic Pump | 60 | Yes | 3-6 | 3 | 6 |
Description
Automatic Pump
Description
Automatic Pump
Description
Automatic Pump
Description
Automatic Pump
Description
Automatic Pump
Description
Automatic Pump
Description
Automatic Pump
Description
Automatic Pump
Description
Automatic Pump
Description
Automatic Pump
Description
Automatic Pump
Description
Automatic Pump
Reservoir Capacity

2 Liters

Motor Voltage

110-1-50/60 Standard
220-1-50/60 Optional

Pump Type

Spring Discharge Piston Pump

Maximum Pressure

40 PSI

Output Connection

5/16-24 (f)

Seals

Buna-N

Operating Temperature

32-120ºF
Learn More From Lubricology