PDI Pumps
The PE-34 and PE-44 Series positive displacement pumps deliver precise amounts of oil to lubrication points. The units contain an auto-cyclic gear pump which contains a depressurizing mechanism to return line pressure to 0 PSI.
Contact Us to Purchase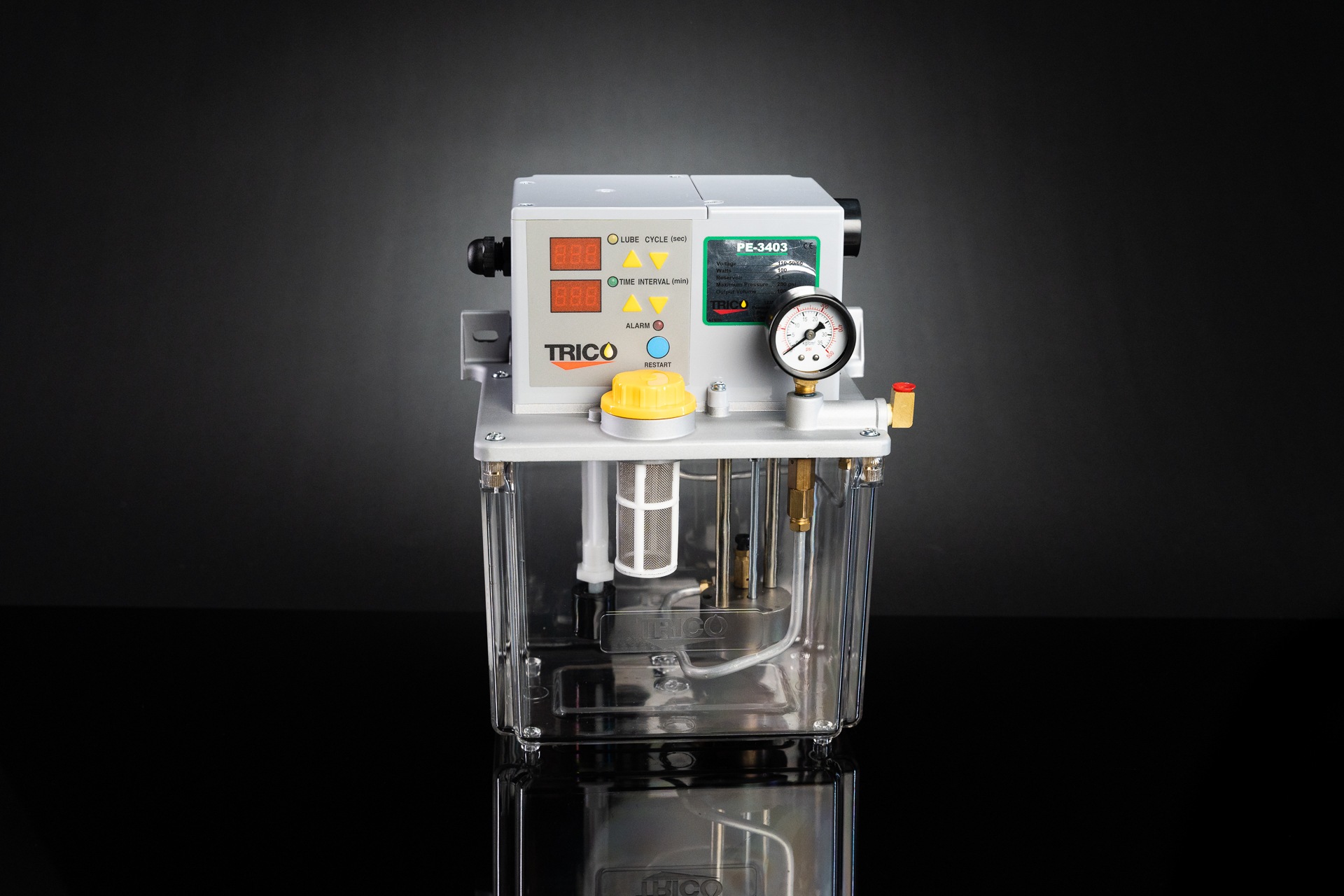 Adjustable Cycles

Adjustable output cycle time of 1-999 seconds and adjustable interval time between lubrication cycles of 1-999 minutes (PE-34 Series)

External Controls

The PE-44 Series is specifically designed for use with external user installed controls.

Durable Reservoirs

Easy view plastic reservoir on 3-liter models, steel reservoir with sight gauge on 6-, 8-, and 20-liter reservoirs

Easy Filling

Large fill plug simplifies adding or changing lubricant

Oil Filter

Convenient drop-in filter in fill port keeps oil clean

Accessories

These pumps use positive displacement injectors (PDIs) to deliver precise amounts of oil to the lubrication points. PDI injectors, fittings, and accessories are available to create a central lubrication system.
Other Specs
| Model | Description | Pump Type | Reservoir Capacity (liters) | Oil Delivery Time | Interval Time Between Cycles |
| --- | --- | --- | --- | --- | --- |
| PE-3403 | PDI Pump | Auto Cyclic | 3 | 1-999 sec | 1-999 min |
| PE-3406 | PDI Pump | Auto Cyclic | 6 | 1-999 sec | 1-999 min |
| PE-3408 | PDI Pump | Auto Cyclic | 8 | 1-999 sec | 1-999 min |
| PE-3420 | PDI Pump | Auto Cyclic | 20 | 1-999 sec | 1-999 min |
| PE-4403 | PDI Pump | Standard Pump | 3 | User Installed | User Installed |
| PE-4406 | PDI Pump | Standard Pump | 6 | User Installed | User Installed |
| PE-4408 | PDI Pump | Standard Pump | 8 | User Installed | User Installed |
Reservoir Capacity (liters)
3
Oil Delivery Time
1-999 sec
Interval Time Between Cycles
1-999 min
Reservoir Capacity (liters)
6
Oil Delivery Time
1-999 sec
Interval Time Between Cycles
1-999 min
Reservoir Capacity (liters)
8
Oil Delivery Time
1-999 sec
Interval Time Between Cycles
1-999 min
Reservoir Capacity (liters)
20
Oil Delivery Time
1-999 sec
Interval Time Between Cycles
1-999 min
Reservoir Capacity (liters)
3
Oil Delivery Time
User Installed
Interval Time Between Cycles
User Installed
Reservoir Capacity (liters)
6
Oil Delivery Time
User Installed
Interval Time Between Cycles
User Installed
Reservoir Capacity (liters)
8
Oil Delivery Time
User Installed
Interval Time Between Cycles
User Installed
Motor Voltage

110-1-50/60 Standard
220-1-50/60 Optional

Pump Type

Gear Pump

Maximum Pressure

200 PSI

Maximum Flow

100 cc/min

Output Connection

5/16-24 (f)

Seals

Buna-N

Oil Viscosity

30-250 CST (150-1250 SUS)
Learn More From Lubricology