Machine Synchronized Unit – Streamliner MSP
The Streamliner MSP unit offers the advantage of providing automatic lubrication to machinery that is infrequently or intermittently used by synchronizing itself to the equipment, thereby avoiding the problem of overlubrication. It will dispense a preset amount of grease as the machine is operating and does not dispense lubricant if the equipment stops running. The unit goes into "standby mode" until the machine goes back into operation. The Streamliner MSP can be externally powered by the machine or PLC.
Contact Us to Purchase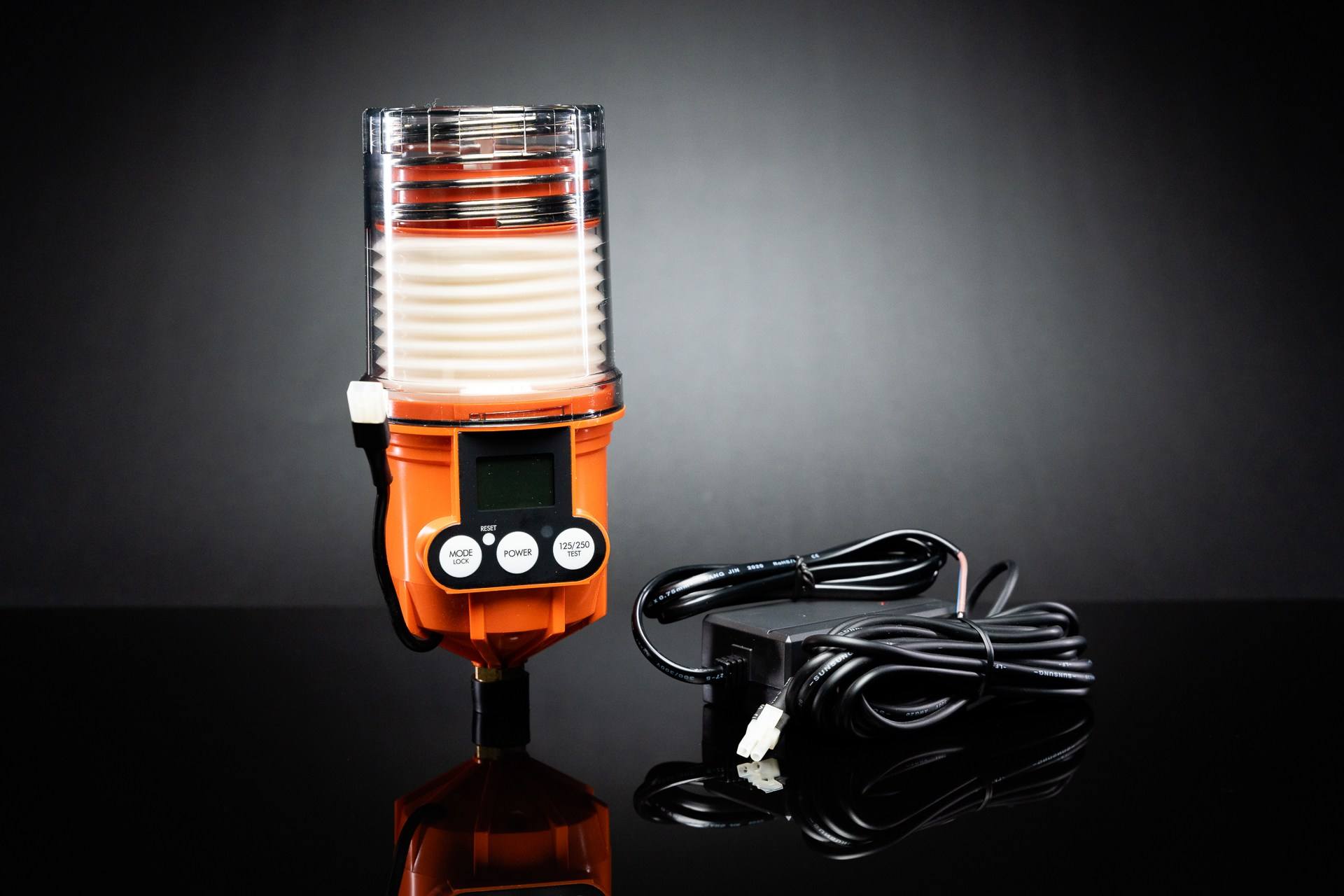 Feature
Multi-Point Capability
The dispenser has a high operating pressure of 280 psi, making it ideal for use in remote and multi-point applications. When used with a Distribution Block, a single unit can lubricate up to eight lubrication points.
Feature
Refillable
The Streamliner MSP Grease Dispenser is refillable through the use of a replaceable grease pouch. The grease pouch is prefilled with one of four standard greases with either a standard alkaline or high-performance lithium battery pack, depending on the requirements of the application. Grease pouches are sold as a service pack, which includes a dust cover as well.
Special Features
Intuitive Display & Power Supply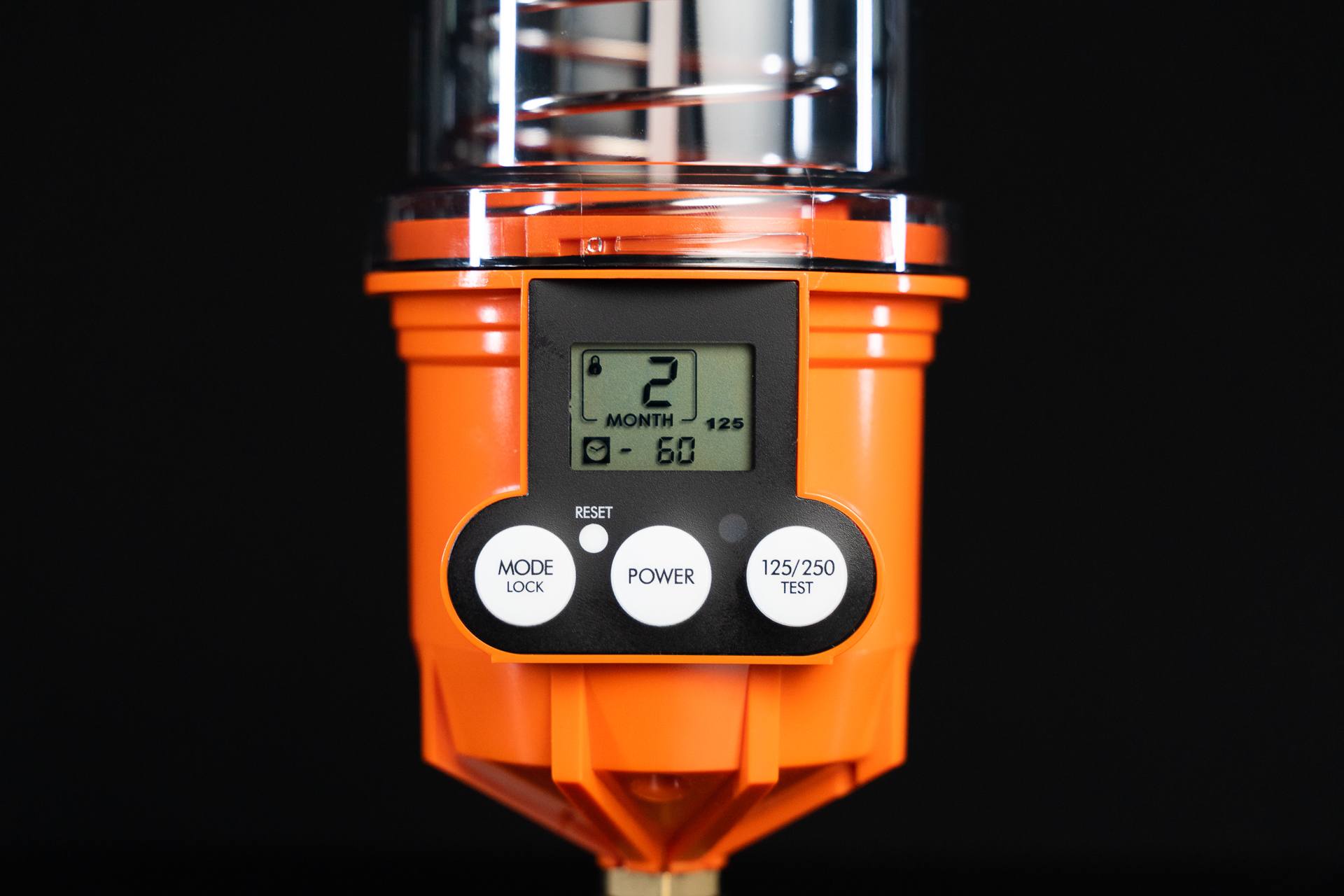 Intuitive Display
The Streamliner MSP has a large LCD display that provides all the necessary information to optimally monitor the condition of the unit and the lubrication point.
Dispensing Period
Displays selected dispensing rate from a choice of nine depending on the size of grease dispenser – 1, 2, 3, 4, 6, 12, 18, 24, and half month.

Days Until Empty
Displays the number of days remaining until grease pouch is empty.

Grease Capacity
Indicates the selected grease pouch capacity installed in the unit.

Test Mode
Notification that the unit is in test mode which runs a cycle to check for proper operation of the unit.
Empty Notification
Notification the unit is empty and the number of days since the grease pouch has been empty.

On Hold Notification
Provides notification of operation on hold due to excessive backpressure and the number of days operation has been on hold.

Battery Notification
Low battery power icon indicator.

Alert Status
A red LED blinks when battery level is low, excessive backpressure exists, or grease level is empty.
Power Supply
The Streamliner MSP is externally powered with the power supply connected to the machine or PLC to provide power to the grease dispenser.

Voltage Rate Input Range
VAC AC-DC Adapter: 100-220V, 0.5 A 50-60 Hz
VDC DC-DC Converter: 12V – 24V

Voltage Rate Output Range
5.0 V, 2A

Power On Indicator
Red Light
Relay Box Dimensions
3.35″ D x 1.93″ W x 1.26″ H

Wire Length Power Supply Input
2.28 ft

Wire Length Power Supply Output
14.76 ft

Wire Length MSP Side
3.54 in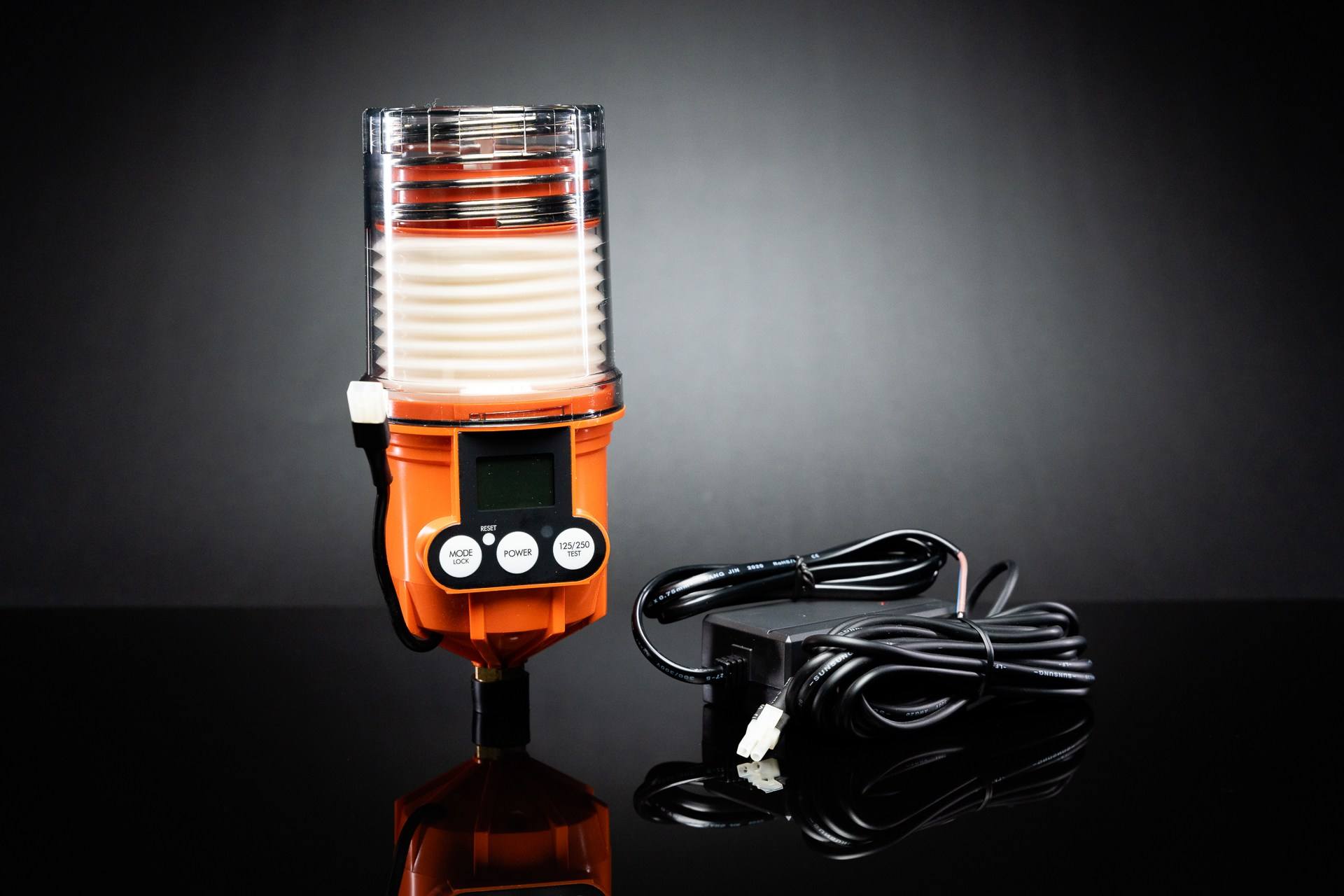 Feature
Durable Construction
The thread is tempered steel with a brass finish that allows the unit to excel in high-vibration applications.
Automatic Lubrication

Electro-mechanical driven with microprocessor control for precise lubrication.

Variable Dispensing Rates

Select one of nine variable dispensing rates depending on the size of grease dispenser: 1, 2, 3, 4, 6, 12, 18, 24, and half month.

Long Battery Life

No need to change the internal battery pack for up to 5 years (externally powered).
Other Specs
| Model | Description | Grease Capacity | Power Supply | Grease Type | NLGI# | Thickener Type |
| --- | --- | --- | --- | --- | --- | --- |
| 33451 | Streamliner MSP | 125 cc | VDC | Mobilgrease XHP 222 | 2 | Lithium Complex |
| 33453 | Streamliner MSP | 125 cc | VDC | Mobilith SHC 100 | 2 | Lithium Complex |
| 33454 | Streamliner MSP | 125 cc | VDC | Mobilgrease FM 222 | 2 | Aluminum Complex |
| 33455 | Streamliner MSP | 125 cc | VDC | Mobilith SHC 220 | 2 | Lithium Complex |
| 33457 | Streamliner MSP | 125 cc | VAC | Mobilgrease XHP 222 | 2 | Lithium Complex |
| 33458 | Streamliner MSP | 125 cc | VAC | Exxon Unirex EP2 | 2 | Lithium Complex |
| 33459 | Streamliner MSP | 125 cc | VAC | Mobilith SHC 100 | 2 | Lithium Complex |
| 33461 | Streamliner MSP | 125 cc | VAC | Mobilith SHC 220 | 2 | Lithium Complex |
| 33463 | Streamliner MSP | 250 cc | VDC | Mobilgrease XHP 222 | 2 | Lithium Complex |
| 33464 | Streamliner MSP | 250 cc | VDC | Exxon Unirex EP2 | 2 | Lithium Complex |
| 33465 | Streamliner MSP | 250 cc | VDC | Mobilith SHC 100 | 2 | Lithium Complex |
| 33466 | Streamliner MSP | 250 cc | VDC | Mobilgrease FM 222 | 2 | Aluminum Complex |
| 33467 | Streamliner MSP | 250 cc | VDC | Mobilith SHC 220 | 2 | Lithium Complex |
| 33472 | Streamliner MSP | 250 cc | VAC | Mobilgrease FM 222 | 2 | Aluminum Complex |
| 33475 | Streamliner MSP | 500 cc | VDC | Mobilgrease XHP 222 | 2 | Lithium Complex |
| 33476 | Streamliner MSP | 500 cc | VDC | Exxon Unirex EP2 | 2 | Lithium Complex |
| 33477 | Streamliner MSP | 500 cc | VDC | Mobilith SHC 100 | 2 | Lithium Complex |
| 33478 | Streamliner MSP | 500 cc | VDC | Mobilgrease FM 222 | 2 | Aluminum Complex |
| 33479 | Streamliner MSP | 500 cc | VDC | Mobilith SHC 220 | 2 | Lithium Complex |
| 33482 | Streamliner MSP | 500 cc | VAC | Exxon Unirex EP2 | 2 | Lithium Complex |
Description
Streamliner MSP
Grease Type
Mobilgrease XHP 222
Thickener Type
Lithium Complex
Description
Streamliner MSP
Grease Type
Mobilith SHC 100
Thickener Type
Lithium Complex
Description
Streamliner MSP
Grease Type
Mobilgrease FM 222
Thickener Type
Aluminum Complex
Description
Streamliner MSP
Grease Type
Mobilith SHC 220
Thickener Type
Lithium Complex
Description
Streamliner MSP
Grease Type
Mobilgrease XHP 222
Thickener Type
Lithium Complex
Description
Streamliner MSP
Grease Type
Exxon Unirex EP2
Thickener Type
Lithium Complex
Description
Streamliner MSP
Grease Type
Mobilith SHC 100
Thickener Type
Lithium Complex
Description
Streamliner MSP
Grease Type
Mobilith SHC 220
Thickener Type
Lithium Complex
Description
Streamliner MSP
Grease Type
Mobilgrease XHP 222
Thickener Type
Lithium Complex
Description
Streamliner MSP
Grease Type
Exxon Unirex EP2
Thickener Type
Lithium Complex
Description
Streamliner MSP
Grease Type
Mobilith SHC 100
Thickener Type
Lithium Complex
Description
Streamliner MSP
Grease Type
Mobilgrease FM 222
Thickener Type
Aluminum Complex
Description
Streamliner MSP
Grease Type
Mobilith SHC 220
Thickener Type
Lithium Complex
Description
Streamliner MSP
Grease Type
Mobilgrease FM 222
Thickener Type
Aluminum Complex
Description
Streamliner MSP
Grease Type
Mobilgrease XHP 222
Thickener Type
Lithium Complex
Description
Streamliner MSP
Grease Type
Exxon Unirex EP2
Thickener Type
Lithium Complex
Description
Streamliner MSP
Grease Type
Mobilith SHC 100
Thickener Type
Lithium Complex
Description
Streamliner MSP
Grease Type
Mobilgrease FM 222
Thickener Type
Aluminum Complex
Description
Streamliner MSP
Grease Type
Mobilith SHC 220
Thickener Type
Lithium Complex
Description
Streamliner MSP
Grease Type
Exxon Unirex EP2
Thickener Type
Lithium Complex
Grease Pouch Capacity

125cc (4 oz), 250 cc (8oz), and 500 cc (16 oz) (replaceable)

Operating Pressure

425 psi (30 kgf/cm2)

Maximum Operating Pressure

800 psi (60 kgf/cm2)

Power Supply

Available in VAC and VDC

Available Dispensing Rates

125 and 250 cc – half, 1, 2, 3, 6, and 12 months
500 cc – half, 1, 2, 4, 6, 12, 18, and 24 months

Multi-Point Capability

Up to 8 points

Remote Installation

Up to 20 ft (6m) using 1/4″ (6 mm) OD pre-filled lube line

Installation Thread Size

3/8″ Male NPT

Back Up Battery

DC 4.5V replaceable Alkaline battery (service life 5 years). No need to replace the battery with every service pack change.

Power Supply

Select MSP power supply according to equipment's power source

Voltage Rate Input Range

100-220V, 0.5 A 50-60 Hz – VAC AC-DC Adapter
12v – 24V – VDC DC-DC Converter

Voltage Rate Output Range

5.0 V, 2A

Power On Indicator

Red Light

Relay Box Dimensions

3.35″ D x 1.93″ W x 1.26″ H

Wire Length Power Supply Input

2.28′

Wire Length Power Supply Output

14.76′

Wire Length MSP Side

3.54″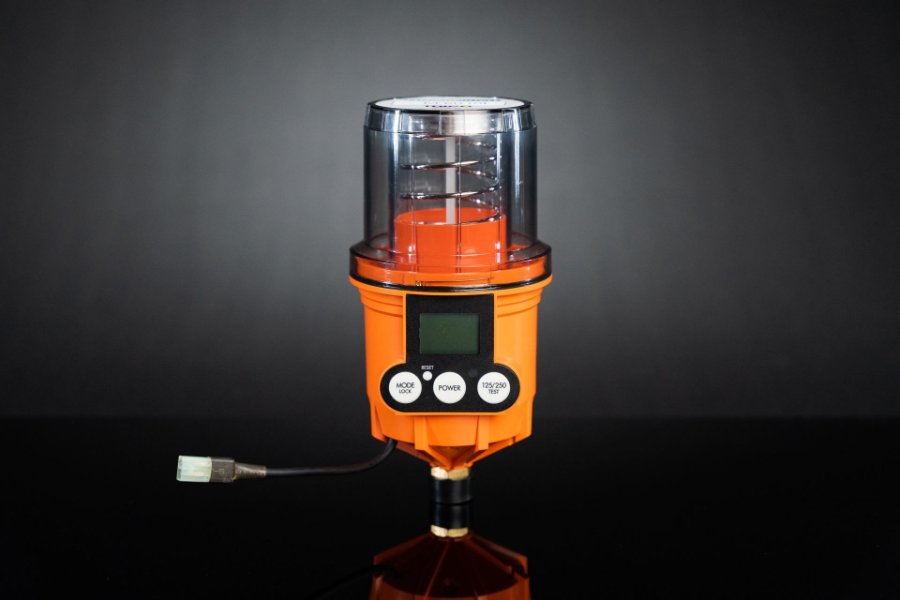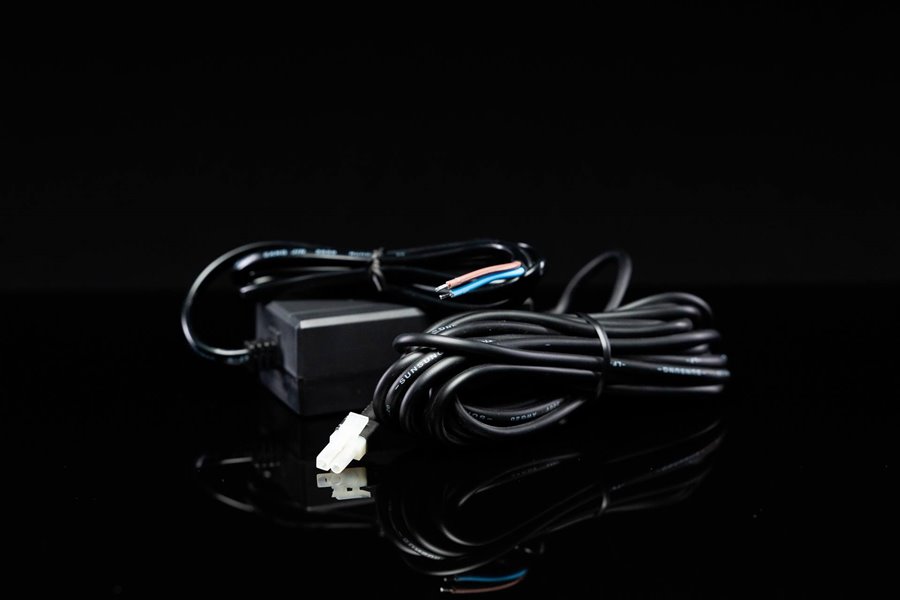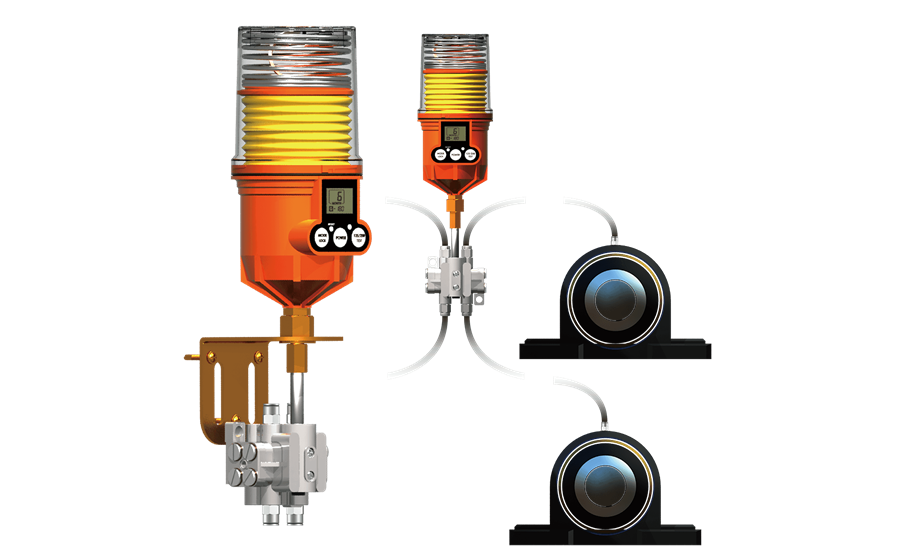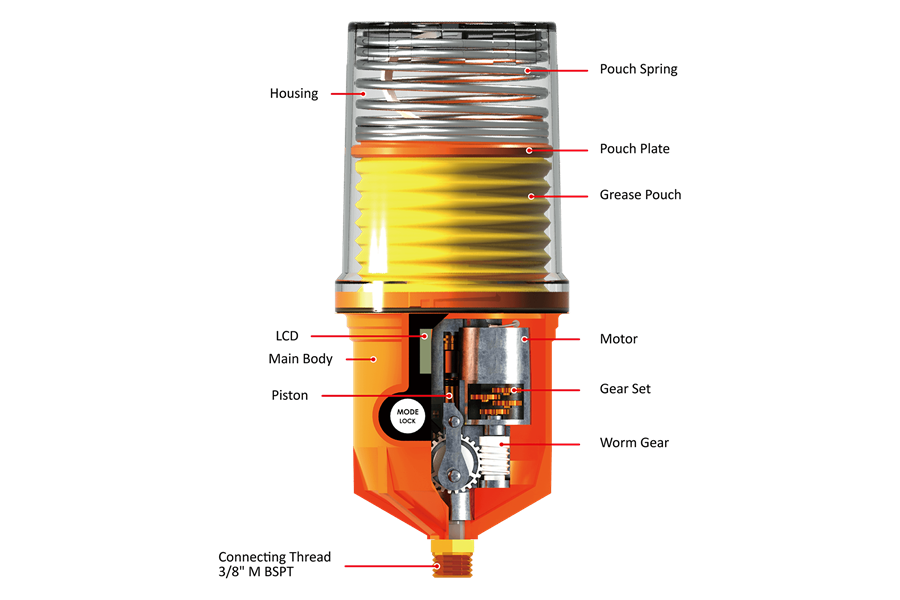 Learn More From Lubricology