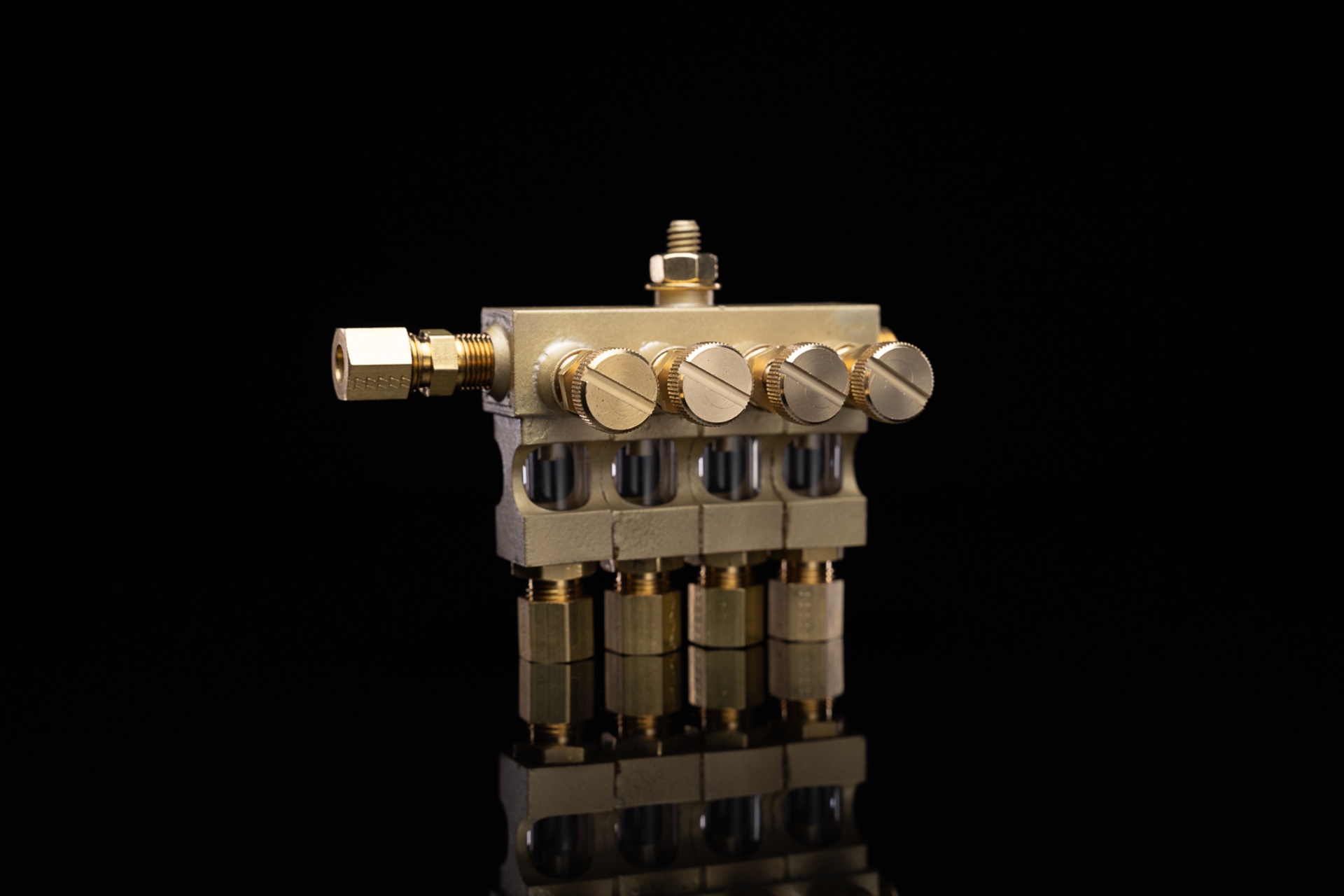 Versatile

V Series Valves have 1 to 6 outlets, in glass or acrylic.

Reliable

Horizontal design of needle valve minimizes contamination at the valve seat.

Drip Rate View

Heavy wall polycarbonate or heat resistant glass sights allow easy setting of the desired drip rate.

Durable

Silver brazing of all brass construction provides long life and leak proof design. Clear lacquer finish of brass components resists corrosion.
Other Specs
| Model | Description | No. of Valve Outlets | Sight | A Dimensions (in) | B Dimensions (in) | C Dimensions (in) |
| --- | --- | --- | --- | --- | --- | --- |
| 30171 | V Series | 1 | Glass | 2 | 5/8 | - |
| 30172 | V Series | 2 | Glass | 2-11/16 | 31/32 | - |
| 30174 | V Series | 4 | Glass | 4-1/16 | 1-21/32 | - |
| 30176 | V Series | 6 | Glass | 5-7/16 | 5/8 | 3-7/16 |
| 30271 | V Series | 1 | Acrylic | 2 | 5/8 | - |
| 30272 | V Series | 2 | Acrylic | 2-11/16 | 31/32 | - |
| 30274 | V Series | 4 | Acrylic | 4-1/16 | 1-21/32 | - |
| 30276 | V Series | 6 | Acrylic | 5-7/16 | 5/8 | 3-7/16 |
A Dimensions (in)
2-11/16
B Dimensions (in)
1-21/32
A Dimensions (in)
2-11/16
B Dimensions (in)
1-21/32
Max. Operating Temp.

Glass 250ºF Continuous
Acrylic 165ºF Continuous

Oil Sight

Heavy Wall Heat Resistant Glass
Heavy Wall Acrylic Plastic

Gasket

Buna-N

Packing Gland

Graphite

Material

Brass

Finish

Lacquered Satin Finish

Needle Valve

Brass

Tube Connection

1/4″ OD Compression Fitting