Type DE Dispensers
Type DE Dispensers are used to lubricate bearings, chains, and other machinery parts when remote valves or manifolds are used. They are solenoid controlled to be wired to the machine or other timing device (PLC). These reservoirs are designed as a "full flow on" / "full flow off" dispensers, allowing the flow adjustment to be controlled at the valves or manifolds.
Contact Us to Purchase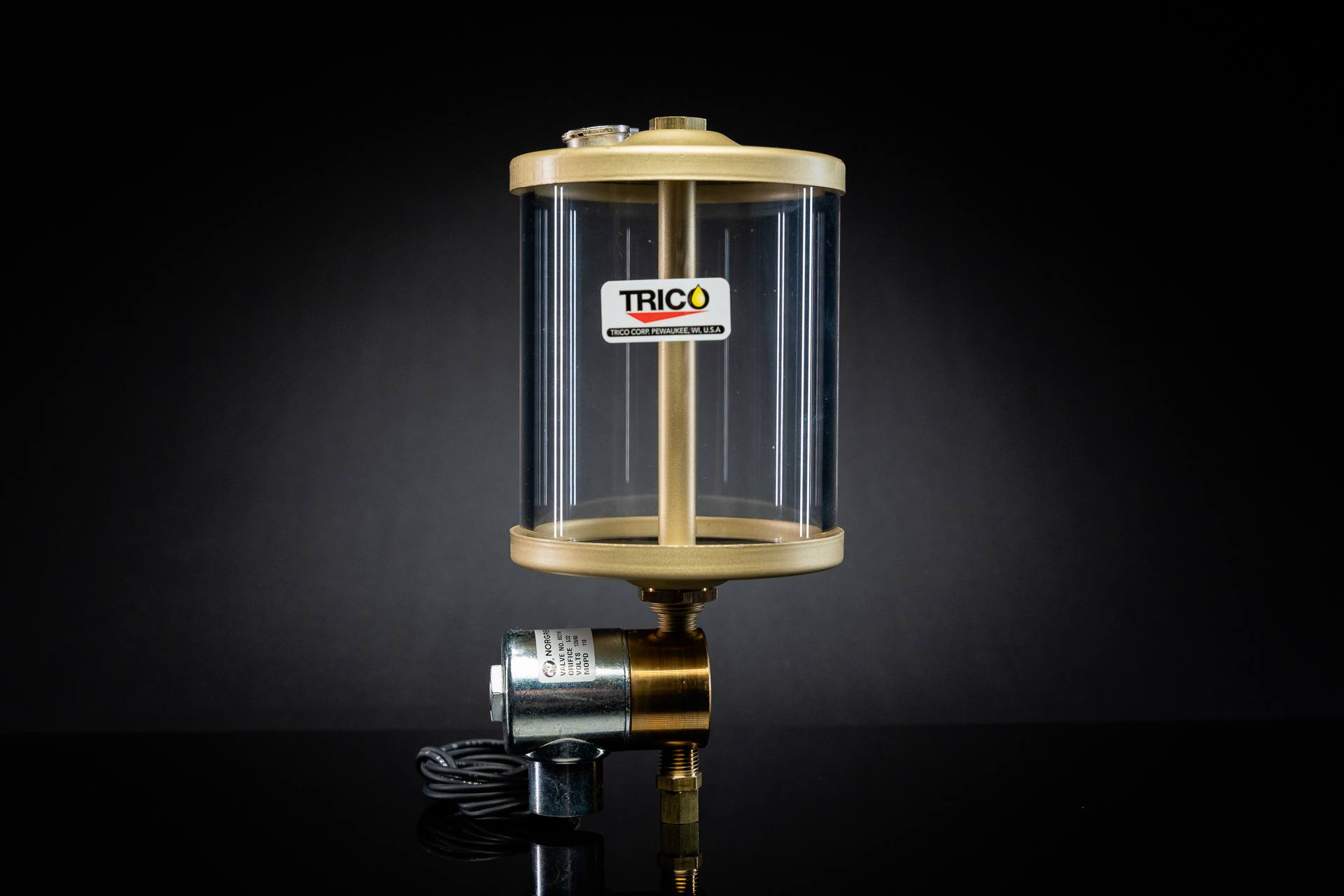 Feature
Solenoid Controlled
The solenoid produces the open/closed function by wiring it to the machine's power supply or other timing device. It eliminates the need for manual on/off toggle switch.
Simple Mounting

Mounting stud simplifies installation to customer supplied bracket.

Dependable Design

Silver brazing of all brass construction provides long life and leak proof design.

Durable

Clear lacquer finish of brass components resists corrosion

Easy Connection to Manifolds

1/4 tube connector outlet furnished

Acrylic or Glass Reservoir

Acrylic reservoir versions have heavy walls for long life in applications to 165º F. Heavy wall heat resistant glass reservoirs and sights providing service in temperatures to 250º F.

Remote Mounting

Remote mounting the reservoir allows for easy fill access when the valve or manifold is located in a difficult to reach spot.
Other Specs
| Model | Description | Capacity | Reservoir | Mounting Stud | Dim A (in) | Dim B (in) |
| --- | --- | --- | --- | --- | --- | --- |
| 35572-B | DE Dispenser | 1 pt | Glass | 3/4-16 | 3-5/8 | 5-3/16 |
| 35573-B | DE Dispenser | 1 pt | Acrylic | 3/4-16 | 3-5/8 | 5-3/16 |
| 35574-B | DE Dispenser | 1 qt | Glass | 3/4-16 | 4-7/16 | 6-3/16 |
| 35575-B | DE Dispenser | 1 qt | Acrylic | 3/4-16 | 4-7/16 | 6-3/16 |
| 35576-B | DE Dispenser | 2.5 qt | Glass | 3/4-16 | 5-11/16 | 8-5/16 |
| 35577-B | DE Dispenser | 2.5 qt | Acrylic | 3/4-16 | 5-11/16 | 8-5/16 |
| 35579-B | DE Dispenser | 1 gal. | Acrylic | 3/4-16 | 5-11/16 | 13-5/16 |
Max. Operating Temp.

Glass 250ºF Continuous
Acrylic 165ºF Continuous

Reservoir

Heavy Wall Heat Resistant Glass
Heavy Wall Acrylic Plastic

Gasket

Buna-N

Material

Brass

Finish

Lacquered Satin Finish

Solenoid

Stainless Steel Plunger and Brass Body UL/CSA Listed

Solenoid Voltage

120V 60 Hz

Needle Valve

Brass