Streamliner Mi Grease Dispenser
The Streamliner Mi Grease Dispenser is designed to detect the operation of industrial rotating machinery by using a piezoelectric vibration sensor. It will periodically check the operating status of the machinery, which it is attached to. As the Streamliner Mi receives a vibration signal from the machinery, the unit will dispense grease. If there is no vibration signal detected, the unit will automatically go into stand-by mode to avoid over-lubrication.
Contact Us to Purchase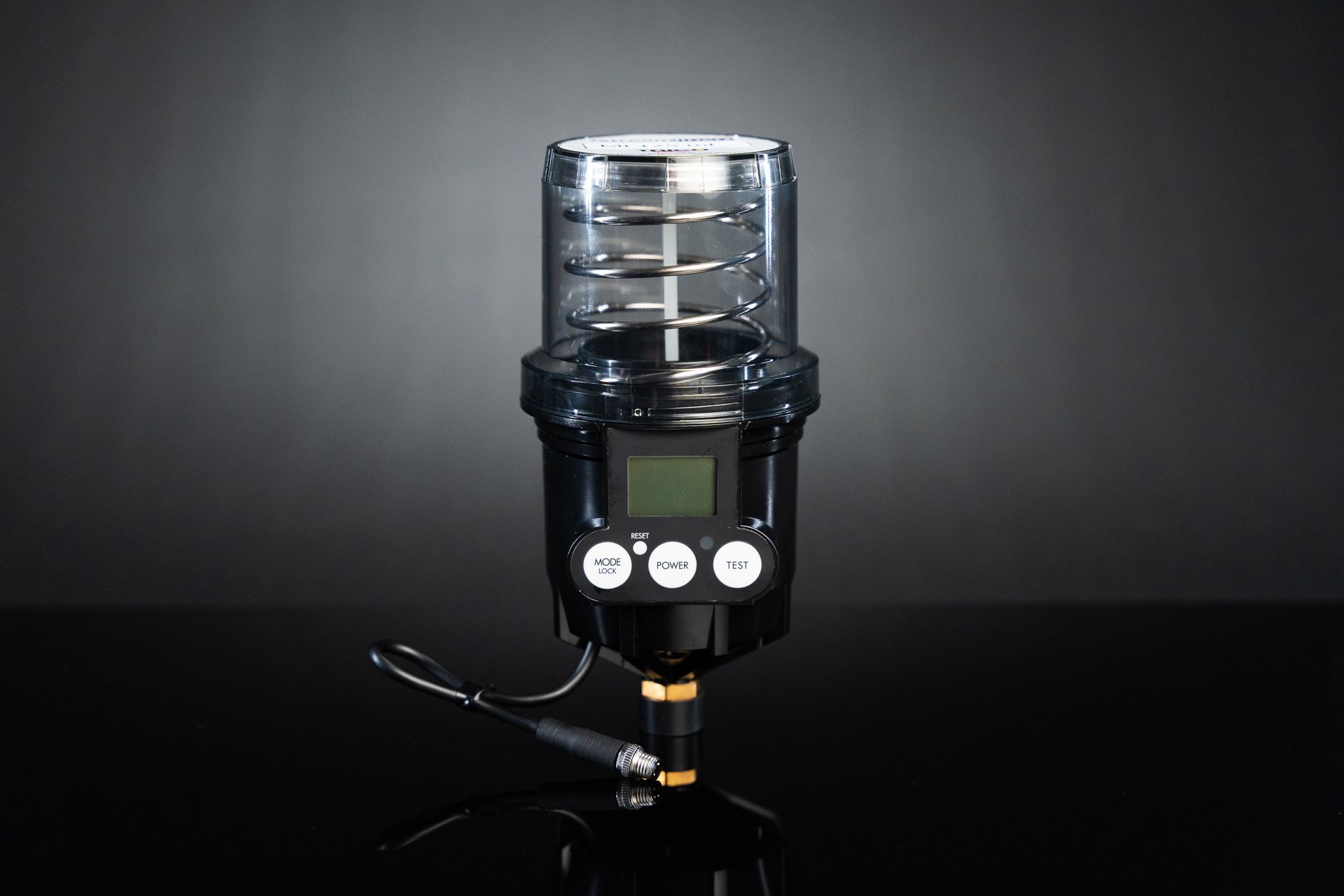 Feature
Vibration Sensor
The vibration sensor allows the unit to lubricate only when the equipment is operating. The sensitivity of the sensor can be adjusted from 0 to 10 with ten be the highest sensitivity.
Feature
Multi-Point Capability
The dispenser has a high operating pressure of 280 psi, making it ideal for use in remote and multi-point applications. When used with a Distribution Block, a single unit can lubricate up to two lubrication points.
Special Feature
Intuitive Display
A large built-in LCD screen makes it easy to read and provides all the necessary information to optimally monitor the condition of the unit and the lubrication point.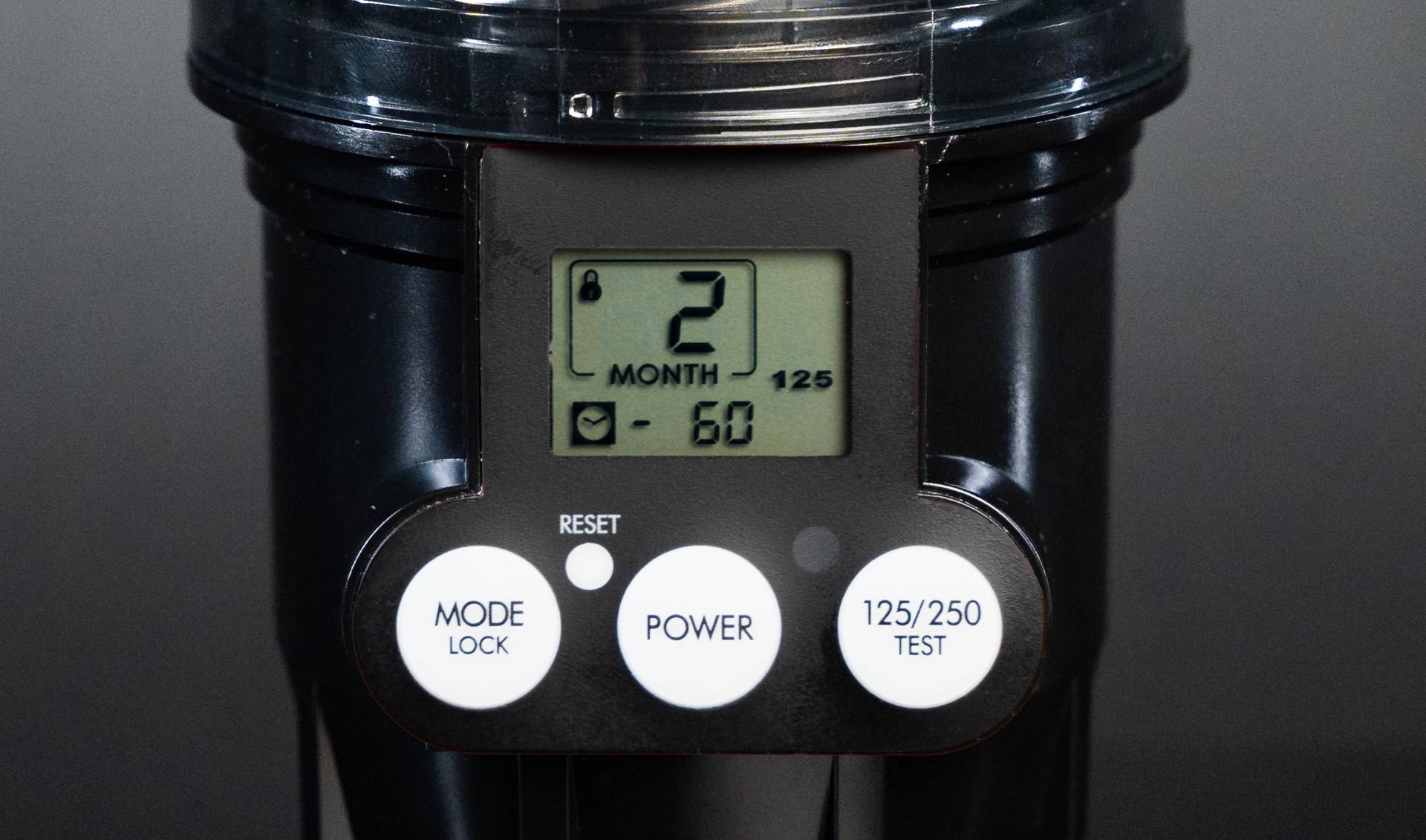 LCD Screen Features
Dispensing Period
Displays selected dispensing rate from a choice of 1 - 12 months.

Days Until Empty
Displays the number of days remaining until grease pouch is empty.

Grease Capacity
Indicates the selected grease pouch capacity installed in the unit.

Test Mode
Notification that the unit is in test mode which runs a cycle to check for proper operation of the unit.
Empty Notification
Notification the unit is empty and the number of days since the grease pouch has been empty.

On Hold Notification
Provides notification of operation on hold due to excessive backpressure and the number of days operation has been on hold.

Battery Notification
Low battery power icon indicator.


Alert Status
A red LED blinks when battery level is low, excessive backpressure exists, or grease level is empty.
Battery Selection
Operating Temperature
Alkaline: 5°F – 140°F
Lithium: -40°F – 140°F


Multi-Point Capability
Alkaline: N/A
Lithium: Up to 2 points
Remote Distance
Alkaline: 20 ft (6 m) or less
Lithium: 30 ft (10 m) or less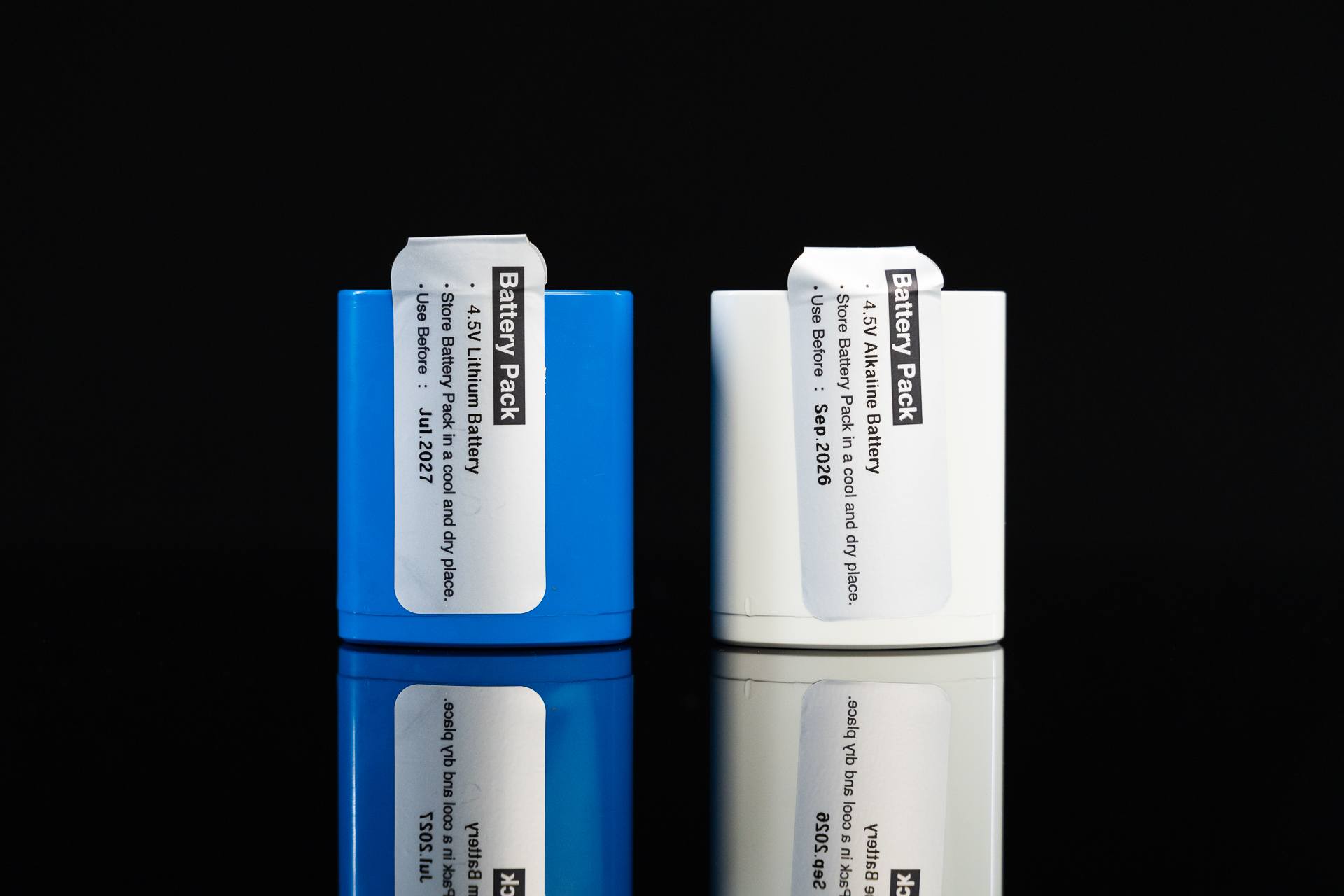 Feature
Refillable
The Streamliner Mi Grease Dispenser is refillable through the use of a replaceable grease pouch. The grease pouch is prefilled with one of six standard greases with either a standard alkaline or high-performance lithium battery pack, depending on the requirements of the application. Grease pouches are sold as a Service pack which includes a battery pack and dust cover as well.
Automatic Lubrication

The vibration sensor allows the grease dispenser to lubricate only when vibration is detected.

Variable Dispensing Rates

Variable dispensing rates from 1- 12 months

Easy Installation

No wiring needed, just place the magnetic vibration sensor on any flat surface on equipment.

Visual Indication

Transparent reservoir for visual indication of remaining grease

Certification

CE approved
Other Specs
| Model | Description | Reservoir Capacity |
| --- | --- | --- |
| 33437 | Streamliner Mi Grease Dispenser and Vibration Unit | 60 cc |
| 33438 | Streamliner Mi Grease Dispenser and Vibration Unit | 125 cc |
Description
Streamliner Mi Grease Dispenser and Vibration Unit
Description
Streamliner Mi Grease Dispenser and Vibration Unit
Reservoir Capacity
125 cc
Grease Pouch Capacity

60cc (2 oz) and 125cc (4 oz)(replaceable)

Power Supply

DC 4.5 Volt (Replaceable)
Standard: Alkaline Battery
Optional: Lithium Battery

Normal Operating Pressure

435 psi (30 kgf/cm2)

Maximum Operating Pressure

870 psi (60 kgf/cm2)

Operating Temperature

Alkaline Battery: 5ºF – 140ºF
Lithium Battery: -40ºF – 140ºF

Dispensing Rates

1-12 months

Remote Installation

Maximum 3.3 ft (1 m) with 6 mm OD tube

Multi-Point Installation

Maximum 3.3 ft (1 m) with 6 mm OD tube (up to 2 points)

Vibration Detector

Piezoelectric cantilever-type film sensor (adjustable sensitivity range)

Wire Length

To Lubricator – 150 mm
Sensor Cable – 1.2 m

Installation Thread Size

3/8″ Male BSPT

Six Standard Greases

Mobilgrease XHP 222
Exxon Unirex EP2
Mobil SHC 100
Mobilgrease FM 222
Mobilith SHC 220
Mobilith SHC PM 460
Learn More From Lubricology