SprayMaster II Coolant System
The SprayMaster II Coolant System is designed for applications where the ability to cycle the coolant delivery is required. Solenoid control of spray coolant allows instant on-off operation for use in secondary machining.
Contact Us to Purchase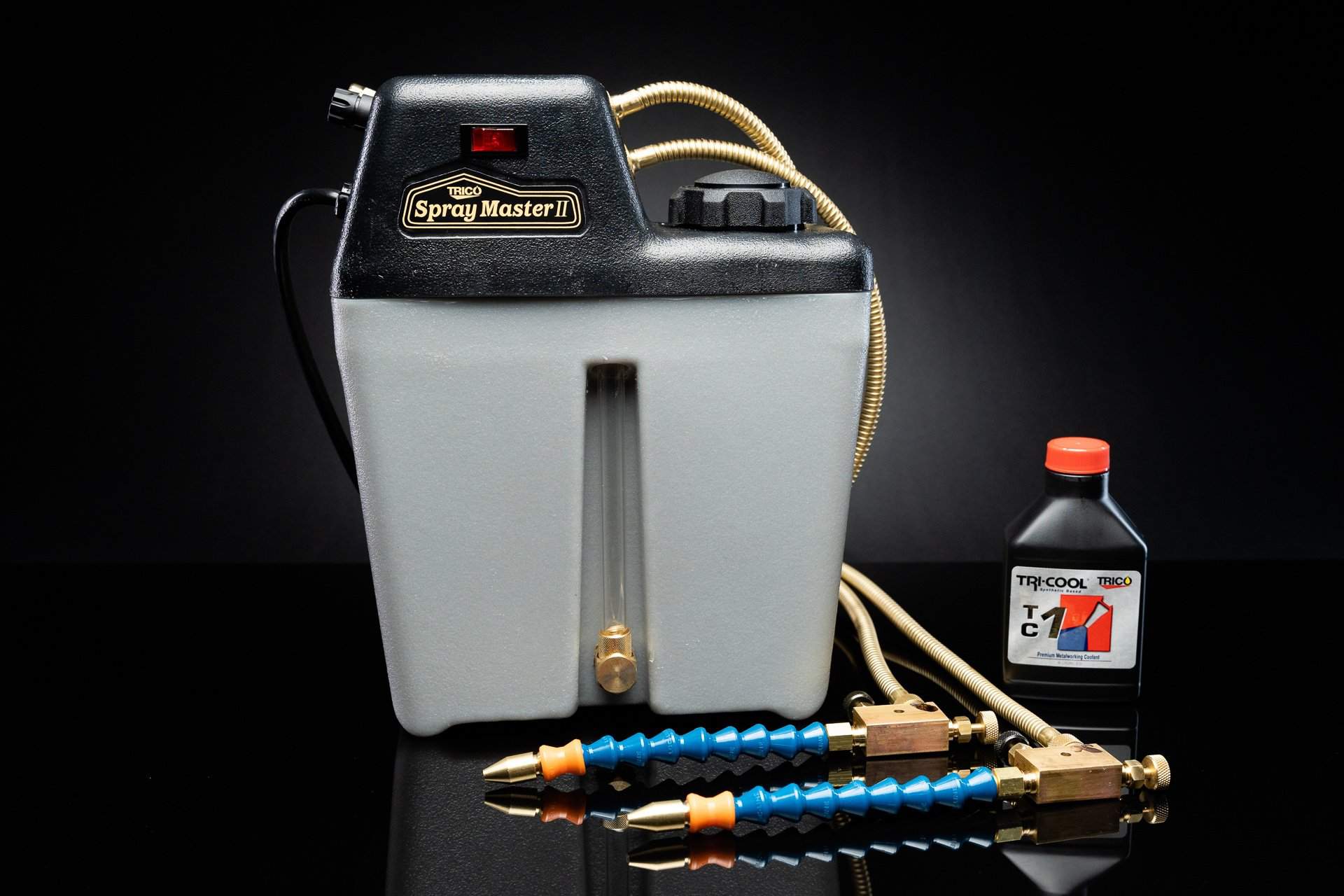 Feature
Solenoid Controls
Solenoids control the on/off timing for cyclic applications. They provide instant flow once energized and can be wired to provide an off cycle for loading and unloading parts. They also conserve on coolant use during load and unload portion of cycle.
Feature
Independent Controls
Controls at the nozzle allow the user to adjust air and liquid flow without having to be immediate proximity to the tank, where most other unit's controls are located. Separate air (black) and liquid (gold) needle valves allows for independent air and liquid flow. Use less coolant with high air flow for increased chip clearing power while reducing overspray. Some air is still required as it is what creates the syphon effect for the liquid flow.
Feature
Nozzle Assembly
One or two 7-inch flexible segmented plastic nozzle(s) come standard with five-foot delivery line(s). The armored brass protects the internal plastic delivery lines from melting from hot metal chips.
Low Profile Mounting Bracket

Mounting bracket affixed to the back of the tank accepts (2) 5/16" diameter screws at a distance of 8 inches (HDPE and SS tank)

Large Reservoir

One-gallon reservoir capacity at a practical size of 12-1/4"(H) x 10" (W) x 5-1/4" (D)
Other Specs
| Model | Description | No. of Lines | Length of Lines (ft) | Capacity (gal) |
| --- | --- | --- | --- | --- |
| 30458 | Spraymaster II | 1 | 5 | 1 |
| 30459 | Spraymaster II | 2 | 5 | 1 |
Description
Spraymaster II
Description
Spraymaster II
Reservoir

High Density Polyethylene

Sight

Acrylic Plastic

Valves

Brass

Seals

Buna-N

Delivery Line

5 ft. Brass Armored

Coolant Tube

Polyurethane

Filter Elements

40 x 40 Mesh Stainless Steel

Solenoid

Brass Body & S/S Plunger

Air Inlet

1/4″ NPT

Air Inlet Pressure

50-100 PSI