Spectrum Oil Containers - Containers
These robust and durable oil storage containers feature a wide opening for rapid no-spill filling and will fit any Spectrum Oil Container Lid. The containers are semi-transparent with graduated markings along the side of container making lubricant level easy to see.
Contact Us to Purchase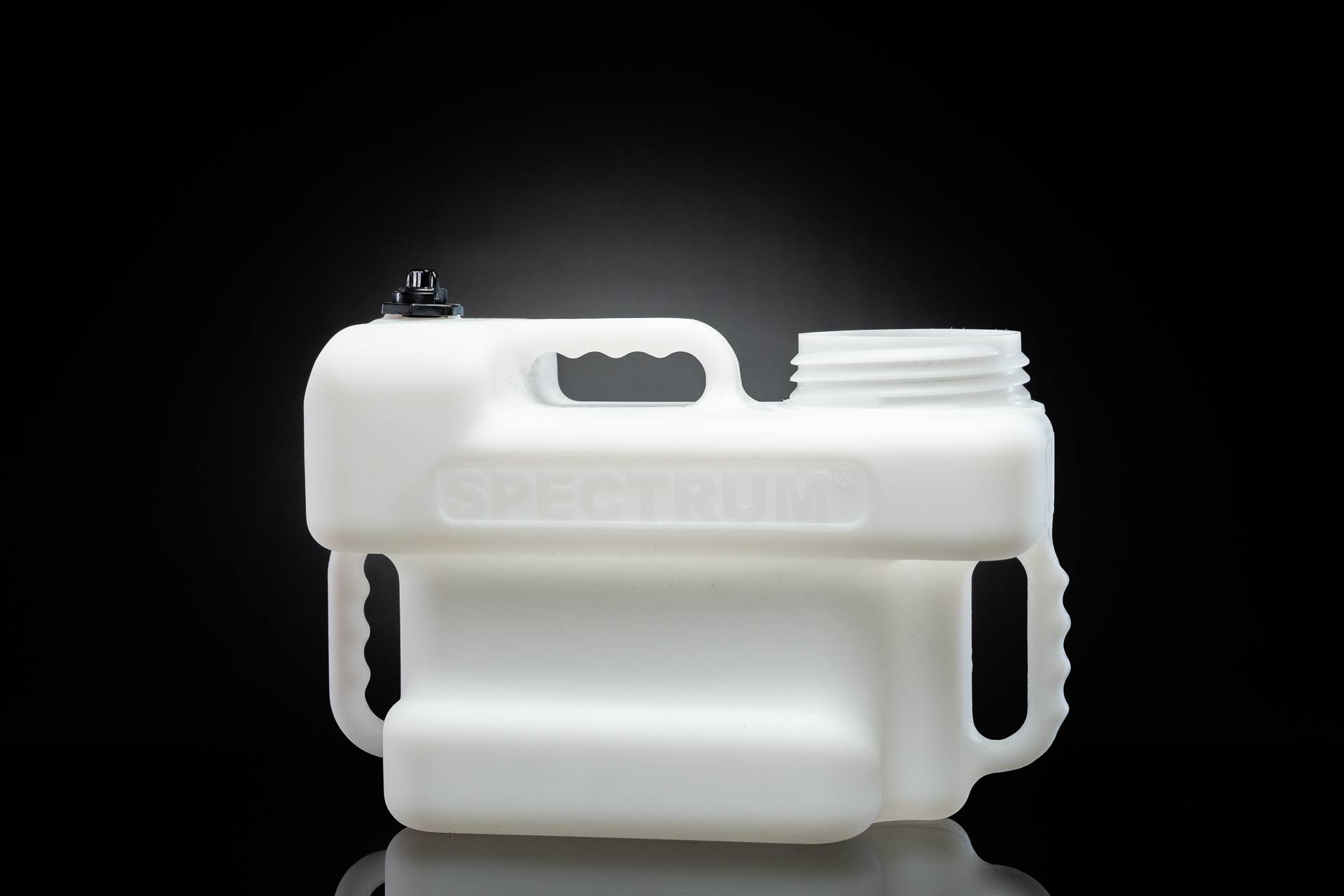 Feature
Compact Footprint
The Spectrum lids have 1/4-turn threads that allow for the nozzle to be turned over the container when storing to take up less storage space.
Feature
Ergonomic Design
Spectrum Oil Containers are contoured to fit the forearm to distribute the weight of container when pouring. In addition, they include three handles that contain contour finger grips to provide a comfortable and secure hold. The front and back handles assist with pouring while the top handle is for ease of transporting.

Feature
Spectrum Visual Lubrication Management
The containers are part of the Spectrum Visual Lubrication Management System that uses color-coding to ensure the correct lubricant is used in the right piece of equipment and in the proper location. Colored identifiers are assigned to designated lubricants which allows for a tagging system to be deployed throughout the Journey of the Lubricant. From the point of storage to the point of application, the operator will know which designated lubricant is to go to each specific lubrication point.
Stability

Spectrum Oil Containers have a square design that creates stability when storing and using the containers with the Spectrum Hand Pump.

Volume Indication

Semi-transparent container with English and metric graduation markings

Content Identification

Each container comes with a writable "CONTENTS" label to provide easy identification of lubricant type.

Variety

Containers are available in 1-, 2-, 3-, and 4-gallon (4, 8, 11, and 15 liter) sizes.
Other Specs
| Model | Description | Container Size |
| --- | --- | --- |
| 34459 | Spectrum Oil Container | 1 Gallon (4 liter) |
| 34460 | Spectrum Oil Container | 2 Gallons (8 liter) |
| 34461 | Spectrum Oil Container | 3 Gallons (11 liter) |
| 34462 | Spectrum Oil Container | 4 Gallons (15 liter) |
Description
Spectrum Oil Container
Container Size
1 Gallon (4 liter)
Description
Spectrum Oil Container
Container Size
2 Gallons (8 liter)
Description
Spectrum Oil Container
Container Size
3 Gallons (11 liter)
Description
Spectrum Oil Container
Container Size
4 Gallons (15 liter)
Learn More From Lubricology