MistMatic Coolant System
The MistMatic Coolant System allows the user a wide range of coolant delivery. Variable adjustability allows deliveries such as lean, rich, high velocity, or low velocity. Unit can fill "mini-flood" applications with the dual control valving. This unit can cover most machining requirements. Multiple metal removal processes ranging from broaching to grinding can be covered with the MistMatic.
Contact Us to Purchase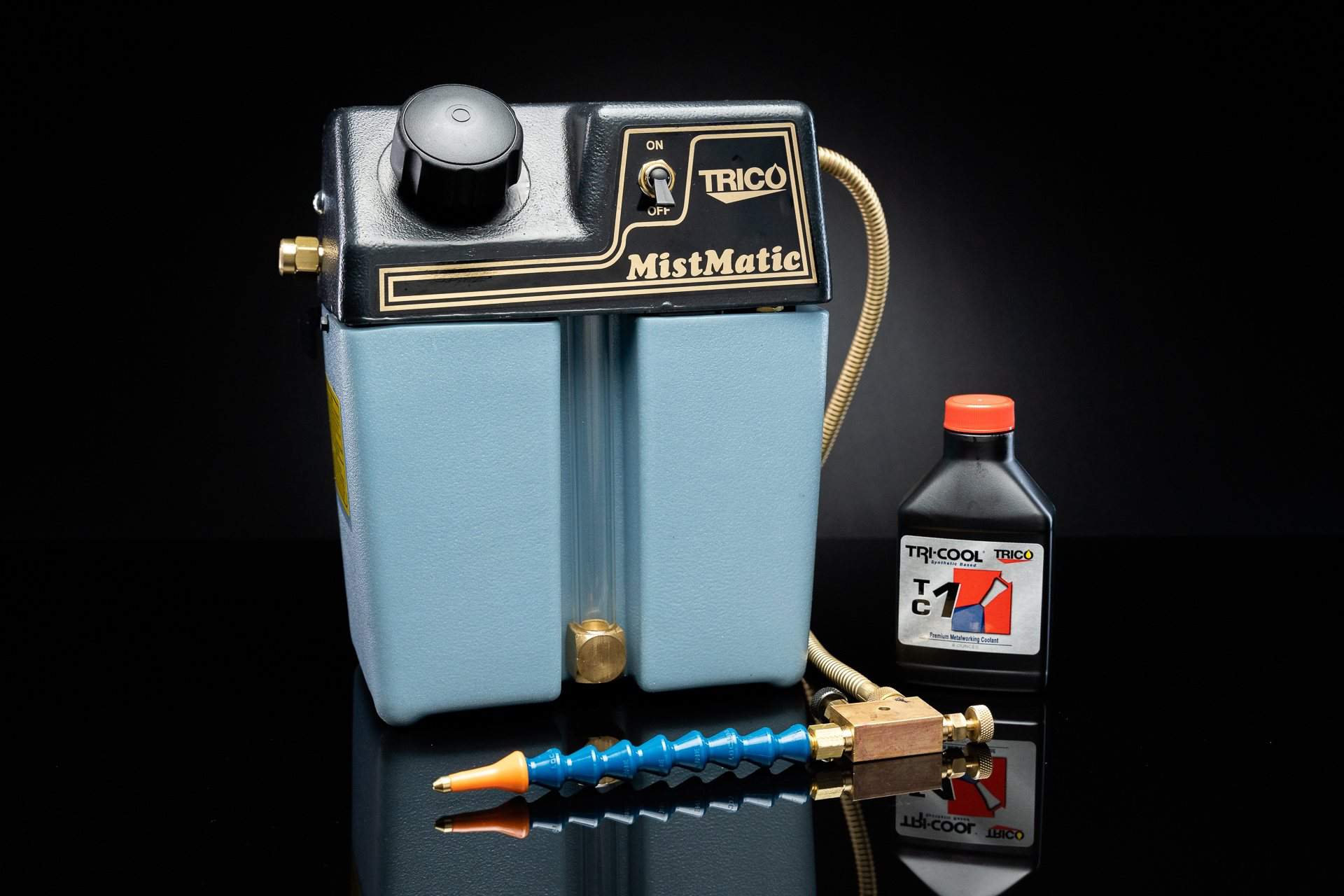 Feature
Pump-Operated System
The use of an air-operated diaphragm pump to deliver liquid, instead of relying on a syphon, allows for the delivery of liquid without any air at the tip for a mini flooding effect. This can be used for heavy duty machining applications like broaching or grinding. The pump can also be used with higher viscosity fluids, up to 1000 SUS. (200 cSt. @ 40C).
Feature
Independent Air and Liquid Valves at the Nozzle
Controls at the nozzle allow the user to adjust air and liquid flow without having to be immediate proximity to the tank, where most other units' controls are located. Separate air (black) and liquid (gold) needle valves allows for independent air and liquid flow. An air-operated pump for fluid delivery allows for 0 air at the nozzle tip if flood cooling is required.
Feature
Nozzle Assembly
One or two 7-inch flexible segmented plastic nozzle(s) standard with five-foot delivery line(s) allows for remote tank mounting. The armored brass protects the internal plastic delivery lines from melting from hot metal chips.
Solenoid Control Option

Solenoids control the on/off timing for cyclic applications. They provide instant flow once energized and can be wired to provide an off cycle for loading and unloading parts.

Mounting Bracket

Mounting bracket affixed to the back of the tank accepts (2) 5/16" diameter screws at a distance of 8 inches. (HDPE and SS tank).

Large Capacity

One-gallon reservoir capacity and a practical size of 10-1/2"(H) x 8-1/2" (W) x 6" (D)

Machine Interface

Auto electric models can be interfaced with machine controls for cyclic capabilities.

Coolant Sight Gauge

A 6-inch acrylic sight gauge provides a clear view of how much coolant remains in the convenient 1-gallon reservoir.
Other Specs
| Model | Description | Control Mode | No. of Lines | Capacity | Voltage |
| --- | --- | --- | --- | --- | --- |
| 30600 | Mistmatic | Manual | 1 | 1 gal. | - |
| 30601 | Mistmatic | Manual | 2 | 1 gal. | - |
| 30604 | Mistmatic | Auto | 1 | 1 gal. | 120 |
| 30605 | Mistmatic | Auto | 2 | 1 gal. | 120 |
Reservoir

High Density Polyethylene

Sight

Acrylic Plastic

Check Valve

Brass w/Buna-N Seals

Seals

Buna-N

Delivery Lines

5 ft. Armored Brass

Coolant Tube

Polyurethane

Valves

Brass

Solenoid

Brass Body & S/S Plunger

Nozzle

Flexible Segmented Plastic Standard

Pump

Acetal Copolymer w/Buna-N

Tubing

Polyurethane

Air Inlet

1/4 NPT

Air Inlet Pressure

50-100 PSI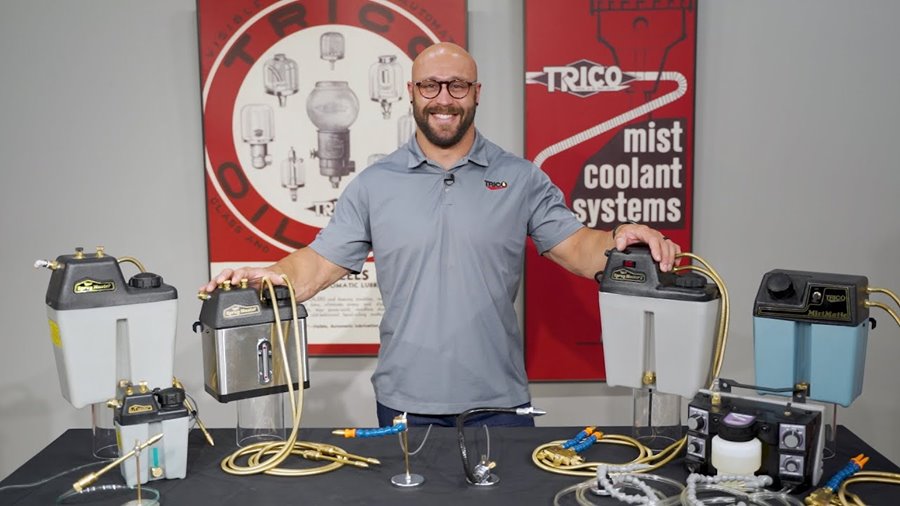 Learn More From Lubricology