Filter Media - Low-Viscosity Filter Cart
Filter media elements remove moisture and damaging particles from lubricants. When used with Trico Low-Viscosity Filter Cart, they can help extend the life of the equipment and reduce maintenance costs.
Contact Us to Purchase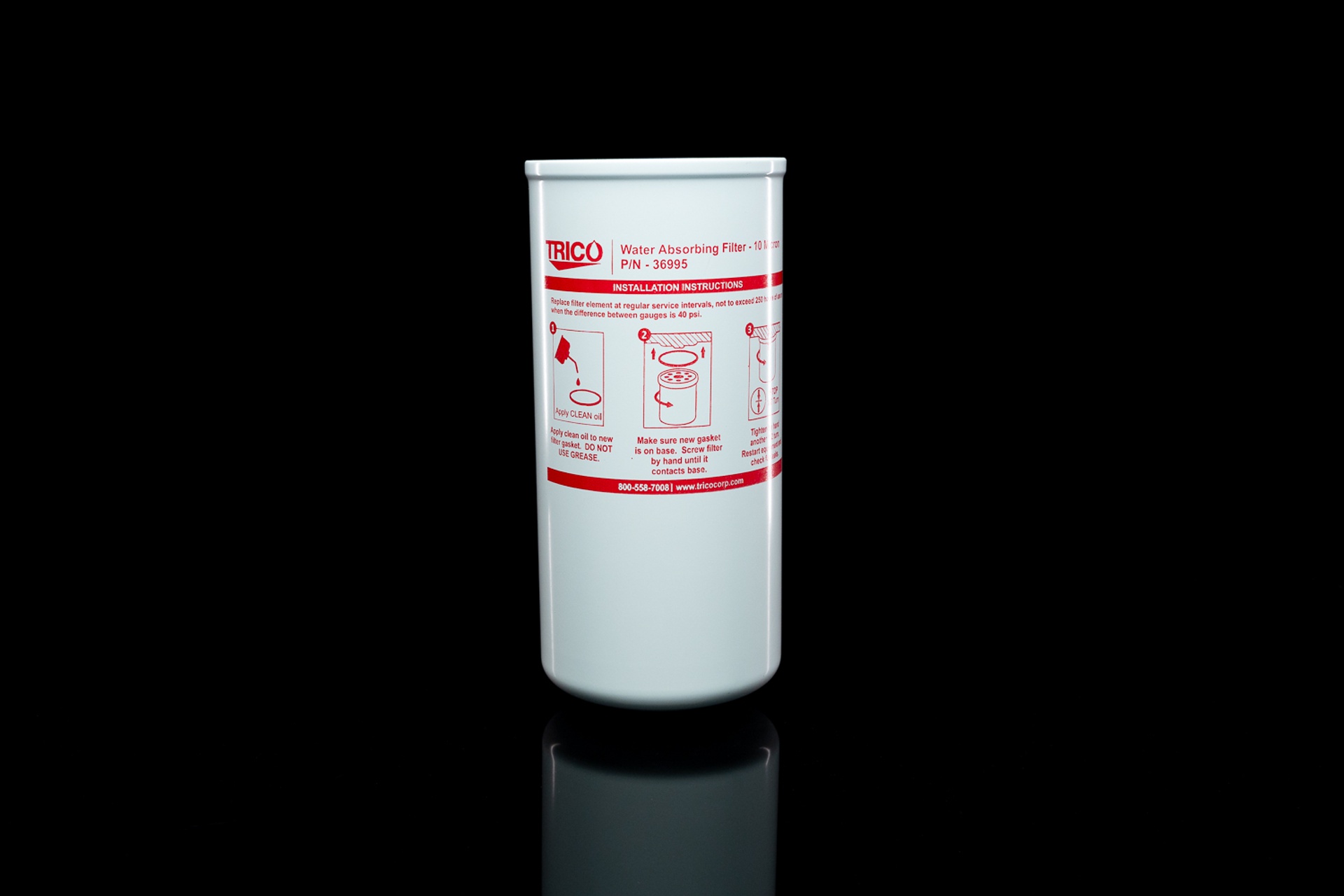 Variety

Various sizes available ranging from 10 micron to 25 micron

Filter Media

Particulate filter media elements are composed of synthetic micro-glass for high-performance filtration and dirt-holding capacity.
Other Specs
| Model | Description | Filter Type | Micron Rating | Dirt Holding Capacity | Beta Ratio | Water Holding Capacity |
| --- | --- | --- | --- | --- | --- | --- |
| 36972 | Synthetic Micro-Glass Filter Media | Particulate | 3 | 102 Grams | Beta 3 ≥ 200 Absolute | N/A |
| 36973 | Synthetic Micro-Glass Filter Media | Particulate | 10 | 120 Grams | Beta 10 ≥ 200 Absolute | N/A |
| 36974 | Synthetic Micro-Glass Filter Media | Particulate | 20 | 125 Grams | Beta 20 ≥ 200 Absolute | N/A |
| 36995 | Water Filter Media | Water | 25 | N/A | Beta 25 ≥ 200 Absolute | 23 oz |
Description
Synthetic Micro-Glass Filter Media
Dirt Holding Capacity
102 Grams
Beta Ratio
Beta 3 ≥ 200 Absolute
Water Holding Capacity
N/A
Description
Synthetic Micro-Glass Filter Media
Dirt Holding Capacity
120 Grams
Beta Ratio
Beta 10 ≥ 200 Absolute
Water Holding Capacity
N/A
Description
Synthetic Micro-Glass Filter Media
Dirt Holding Capacity
125 Grams
Beta Ratio
Beta 20 ≥ 200 Absolute
Water Holding Capacity
N/A
Description
Water Filter Media
Dirt Holding Capacity
N/A
Beta Ratio
Beta 25 ≥ 200 Absolute
Water Holding Capacity
23 oz