AL Gravity Feed Oilers
The AL Oiler is used in all heavy-duty applications where a large oil capacity is needed and an adjustable rate of oil is required.
Contact Us to Purchase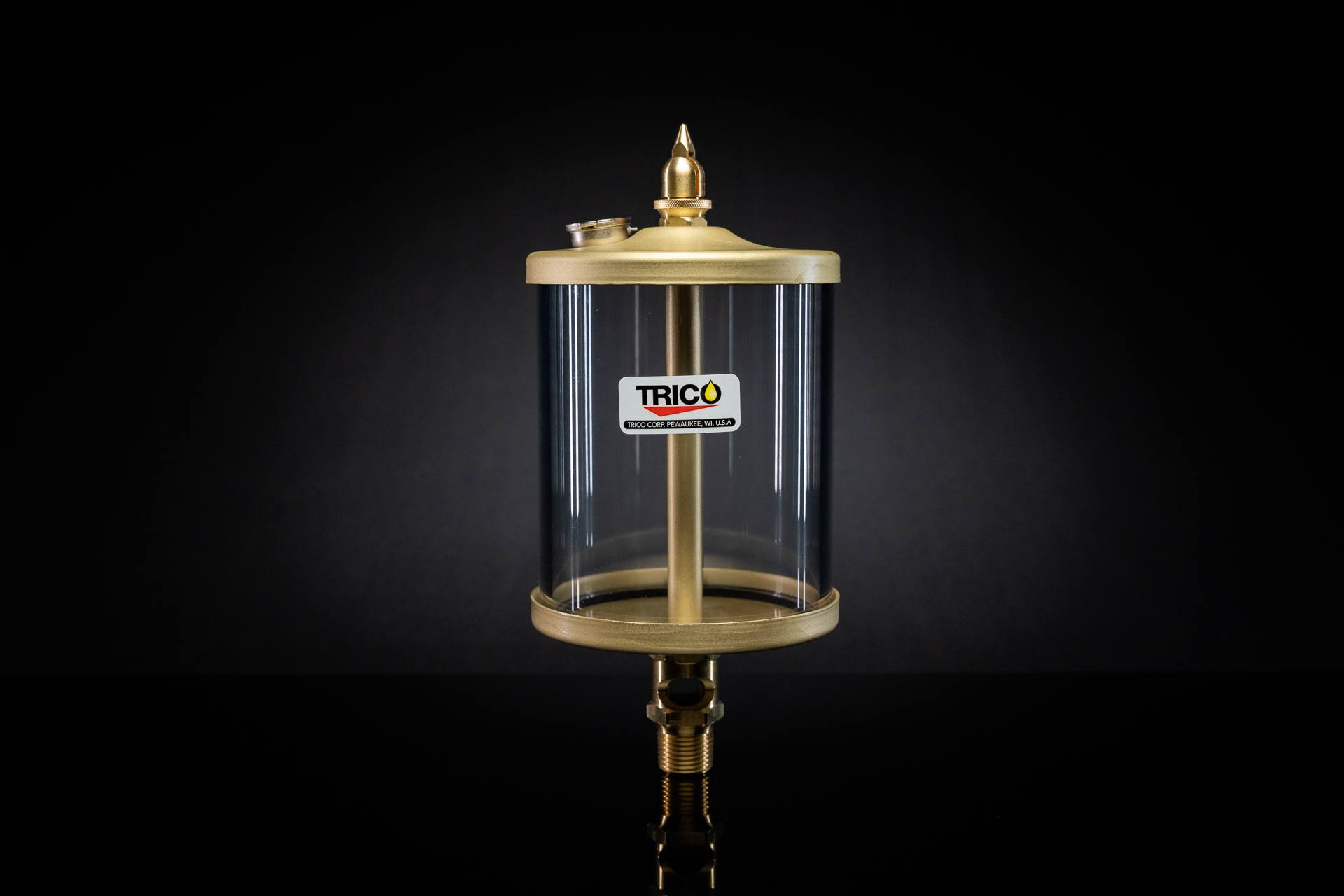 Feature
Three Switches
A three-position toggle switch provides easy on-off control and a flushing option to avoid dry start-ups. The knurled adjustment knob allows for easy fine tuning of drip rates. The switch is then threaded down to lock the adjustment knob in place for consistency.
Feature
Convenient Sight Window
This viewing area allows you to visually see the drip rate you are setting.
Simple Installation

Direct mounting with NPT threads simplifies installation

Dependable Design

Silver brazing of all brass construction provides leak proof design and long life in high vibration applications

Durable

Clear lacquer finish resists corrosion
Other Specs
| Model | Description | Capacity | Connection (NPT) | Reservoir | Dim A (in) | Dim B (in) |
| --- | --- | --- | --- | --- | --- | --- |
| 31416 | AL Oiler | 1 pt | 3/8 | Acrylic | 4-7/16 | 4-5/16 |
| 31417 | AL Oiler | 1 pt | 1/2 | Acrylic | 4-7/16 | 4-5/16 |
| 31432 | AL Oiler | 1 qt | 1/2 | Acrylic | 4-7/16 | 7-5/8 |
| 31480 | AL Oiler | 2.5 qt | 1/2 | Acrylic | 5-11/16 | 9-3/4 |
| 31481 | AL Oiler | 1 gal. | 1/2 | Acrylic | 5-11/16 | 14-13/16 |
| 31517 | AL Oiler | 1 pt | 3/8 | Glass | 4-7/16 | 4-5/16 |
| 31518 | AL Oiler | 1 pt | 1/2 | Glass | 4-7/16 | 4-5/16 |
| 31543 | AL Oiler | 1 qt | 1/2 | Glass | 4-7/16 | 7-5/8 |
| 31581 | AL Oiler | 2.5 qt | 1/2 | Glass | 5-11/16 | 9-3/4 |
Max. Operating Temp.

Glass 250° F Continuous
Acrylic 165° F Continuous

Reservoir

Heavy Wall Heat Resistant Glass
Heavy Wall Acrylic Plastic

Oil Sight

Heavy Wall Heat Resistant Glass
Heavy Wall Acrylic Plastic

Gasket

Buna-N

Material

Brass

Finish

Lacquered Satin Finish

Needle Valve

Brass