Industrial Fast Funnel
Trico's Industrial Fast Funnels® are the simple, convenient, and clean way to pour fluids into containers and equipment. Intended for one-time use, each funnel remains clean and compact until separated from the header and opened. Made of coated, heavy grade paper stock, they can be used with most lubricants and liquids and are designed to fit a wide variety of orifices as small as ¾" in diameter.
Contact Us to Purchase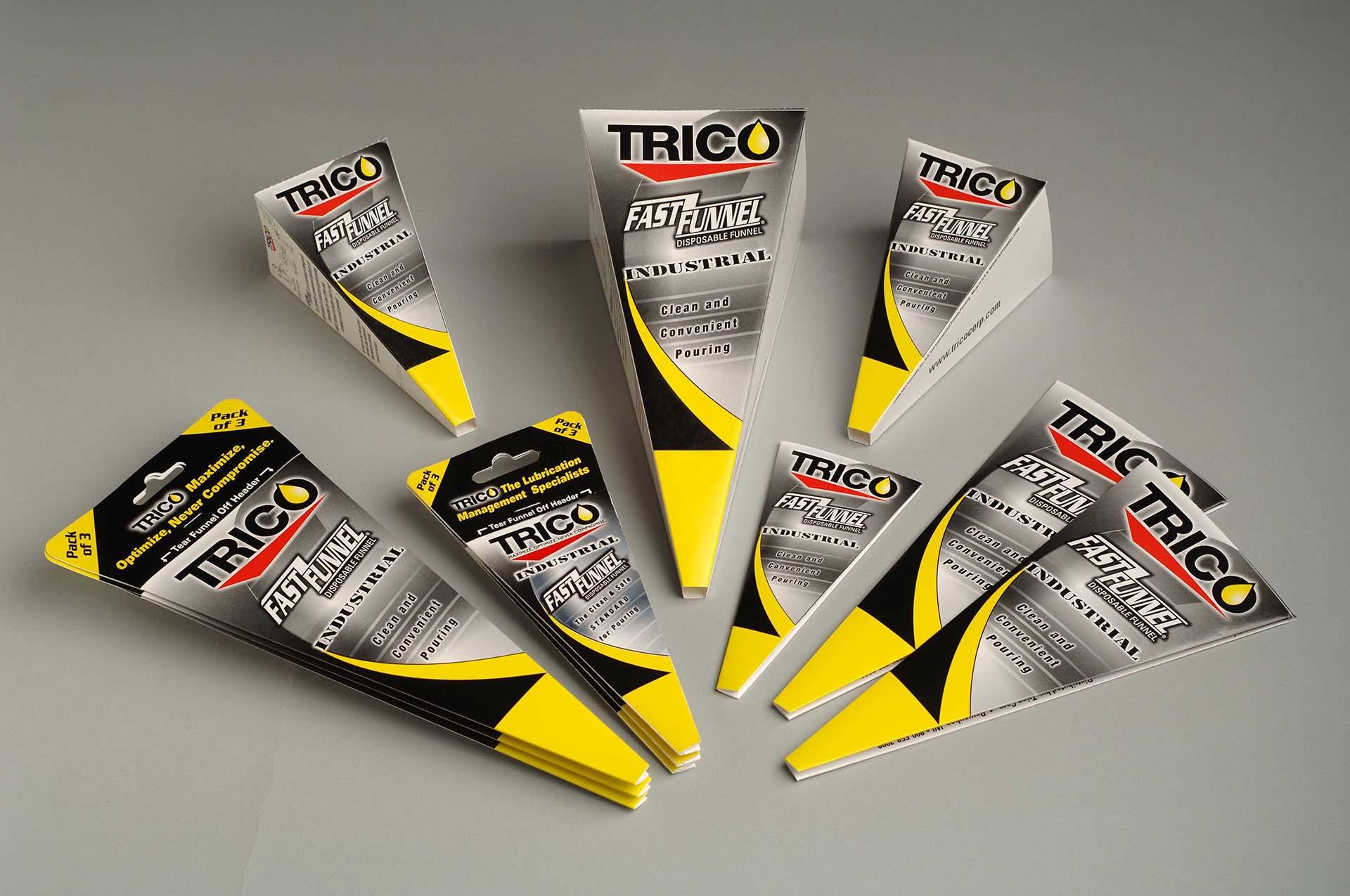 Feature
Reduces Contamination
Using a new funnel each time you top off fluid eliminates the possibility of introducing contaminants into the lubricant that are typically present on standard reusable funnels.
Feature
Increased Fluid Flow
The fluid flow can be increased on the Industrial Fast Funnels by cutting or tearing along the preprinted lines.
Variety

Available in two convenient sizes, standard and large, suited for most applications.

Compact

Folded flat for storage, so they can be easily stored in any toolbox, cabinet, or any convenient space when needed

Disposable

Simply tear, pop open, pour, and dispose with no contamination introduced into the equipment.

Environmentally Friendly

Improves safety and efficiency by preventing spills on floors and equipment, making the funnel environmentally friendly.
Other Specs
| Model | Description | Funnel Size | Quantity |
| --- | --- | --- | --- |
| 36990 | Fast Funnel - (12) 3 packs | Standard | Interpack |
| 36991 | Fast Funnel - (12) 3 packs | Large | Interpack |
| 36992 | Fast Funnel - (288) 3 packs | Standard | Case |
| 36993 | Fast Funnel - (144) 3 packs | Large | Case |
Description
Fast Funnel - (12) 3 packs
Description
Fast Funnel - (12) 3 packs
Description
Fast Funnel - (288) 3 packs
Description
Fast Funnel - (144) 3 packs
Learn More From Lubricology